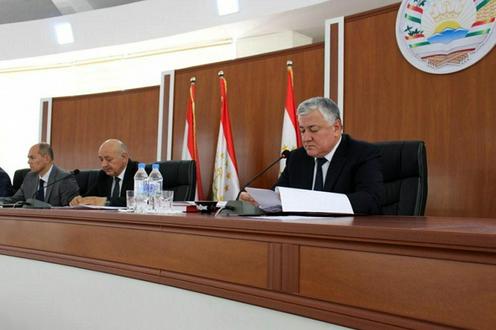 The Supreme Court of Tajikistan. Photo from sud.tj
In 2019, Tajik courts pronounced only ten acquittals out of almost 11,000 criminal cases, Radio Liberty's Tajik website Ozodi reports (in Russian), citing statistics provided to journalists by the country's Supreme Court.
Of the ten acquittals, two came in cases of embezzlement and misappropriation of funds, one in a fraud case, and the rest in cases of minor bodily harm and assault.
International organisations and domestic civil society organisations in Tajikistan have on a number of occasions expressed concern with the low acquittal rate in Tajik courts. Experts say that the courts are not independent, frequently maintain corrupt ties with law enforcement agencies, and take the side of the prosecution when passing sentence.
At a meeting with representatives of the country's courts in November last year, Tajik president Emomali Rahmon remarked on the low level of competence of Tajik judges and said that they are often not impartial. According to Rahmon, over the last ten years, 25 judges and 16 court employees have been convicted of corruption. In the first nine months of last year, courts of higher instance overturned 265 unlawful court rulings.