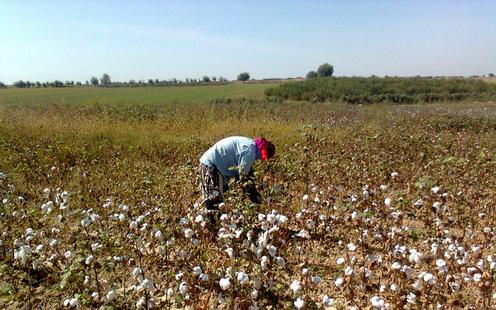 Cotton picking in Uzbekistan. Photo from occrp.org
In 2020, Uzbekistan will end the practice of state purchases of raw cotton, and hokims (heads of regional, municipal and district administrations) will no longer supervise the harvest. The announcement was made by Uzbek Agriculture Minister Jamshid Khojayev at a meeting at the country's International Press Club, Kun.uz reports (in Russian).
The minister added that cotton fields that are not part of agricultural clusters will be turned into cooperative farms under the management of cotton ginning factories. The new measures will enable agricultural enterprises to sell not raw cotton, but cotton products with high added value.
Uzbekistan also plans to end state procurement for cotton and other crops. "It is my belief that sowing according to government quotas is contrary to good agricultural practice," Khojayev stated. The agriculture minister had earlier announced that these reforms would be introduced in 2023.
In September last year, the Ministry of Agriculture of Uzbekistan drew up a "Strategy for the Development of Agriculture for 2020-2030". The document set out plans for a gradual abolition of direct state involvement in the production and sale of cotton, wheat and other crops. It also proposed an end to state regulation of prices for agricultural products, the privatisation of non-strategic government enterprises, the protection of land rights for farmers, and the formation of a rental and sub-rental market for agricultural land. The country's president Shavkat Mirziyoyev later gave the Strategy his official approval.
In 2019, for the first time in many years, state procurement of cotton amounted to less than three million tons, albeit by a small margin – the plan was set at 2,958,000 tons. In previous years, farmers were obliged to jointly gather 3.4-3.5 million tons of the "white gold". Many rights advocates were of the opinion that it was the setting of state targets that led to officials forcing citizens to participate in the cotton harvest and sending even students and school pupils out into the fields.
2019's harvest was notable for a new trend of local authorities rewarding particularly productive cotton pickers with cars, kettles and other valuable gifts.