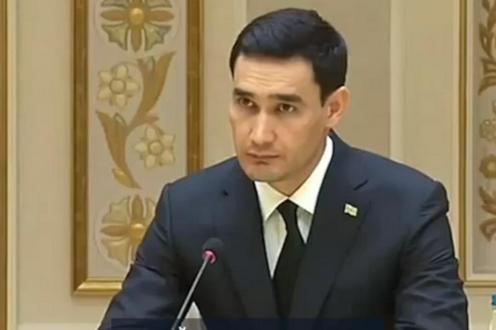 Serdar Berdymukhamedov. Still image from Nastoyashchee Vremya TV
President of Turkmenistan Gurbanguly Berdymukhamedov has appointed his son as minister, the country's official news agency TDH reports (in Russian).
The head of state's son received his new position following a cabinet reshuffle in Turkmenistan. A presidential decree was issued abolishing the Ministry of Industry and Communication and creating a new Ministry of Industry and Construction in its place. The new ministry will be headed by Berdymukhamedov Jr.
The president also made a number of other to the government. The ministers for construction and finance were both replaced, as well as two deputy prime ministers. A number of officials received reprimands. Among them were the chairman of the country's central bank (for "insufficient attention to foreign exchange revenues"), Deputy Prime Minister Purli Agamyradov ("insufficient attention to the construction of educational and sporting facilities"), Minister for Sports and Youth Policy Dayanch Gulgeldiyev ("insufficient attention to the facilities of subsidiary institutions"), and the head of the State Committee for Television, Radio and Cinematography, Nurmammet Garlyev ("inadequate execution of official duties").
In recent years, Serdar Berdymukhammedov – the president's only son – has occupied a number of roles within government. In 2016, he took up a position within the foreign ministry and was later elected to parliament, where he headed the legislative committee. In 2019, he was appointed to run the Ahal region of Turkmenistan.
Journalists have noted how his political role has expanded recently. Among other things, he has represented Turkmenistan at a number of international events which his father would earlier have attended himself.
The rising career of the president's only son is considered by some to be a part of plans for a future transition of power in the country.
The Turkmen government's plans to build a new administrative centre in the Ahal region have also been linked to Berdymukhamedov Jr's rising status.