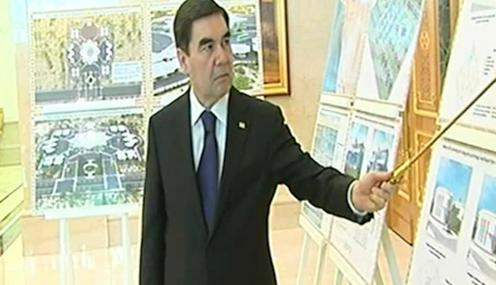 Archive image from TV station Altyn Asyr, published by Azatlyk
To mark the occasion of the approaching 30th anniversary of the country's independence, Turkmenistan is to build a 300-metre-tall monument, the country's official news agency TDH reports.
According to TDH, Turkmen president Gurbanguly Berdymukhamedov has ordered plans for the project to be drawn up as soon as possible and a tender to be issued for construction. Initial reports suggest that the monument will some kind of stele, but no further details have been given.
As news website Chronicles of Turkmenistan notes, the government's intention to build one or more sizeable new structures in Ashgabat was first reported at the end of January, when Deputy Prime Minister Shamukhammet Durdylyev showed the president plans for construction work in the capital.
Later, during the course of the president's visit to one of the construction sites, a number of designs for tall monuments were visible among the projects presented to him.
The capital already possesses one such monument – a 118-metre column erected for the tenth anniversary of Turkmenistan's independence.
The new stele will be one of the tallest monuments in the world. It will be taller than the highest statue in the world, the 240-metre Statue of Unity in India, and just 24 metres shorter than the Eiffel Tower.