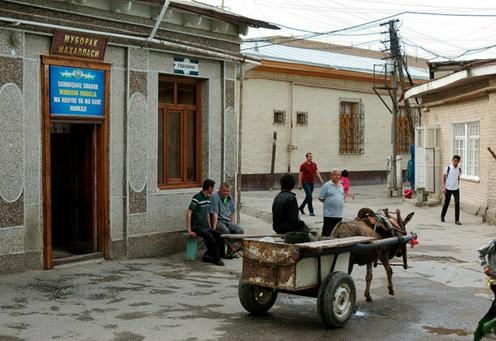 A mahalla committee office in Uzbekistan. Photo from cont.ws
A new Ministry for Mahalla and Family Affairs is to be created in Uzbekistan, bringing together 40,000 employees of the country's mahalla committees (neighbourhood-level organs of self-government) with the relevant local government officials. The proposal was made by President Shavkat Mirziyoyev himself, the press office of the head of state announced (in Russian).
The head of the ministry will also have the role of chairman of the Mahalla Foundation, the ministry's deputy head will manage the Public Foundation for the Support of Women and the Family, and the deputy for the affairs of veterans and the elderly will oversee the Nuroniy Foundation. The heads of the regional offices will automatically become deputy hokims (deputy heads of the regional administration).
Mirziyoyev has proposed introducing a number of changes to the functioning of these organs of local self-government. According to him, the mahalla committees currently perform over 200 different tasks, and the two paid employees envisaged by existing legislation cannot deal with such a volume of work. 50 of these duties will therefore be withdrawn, and the workload of local crime prevention officers will be reduced. The internal affairs ministry has also been tasked with improving the material resource base of the local committees.
The term of office of mahalla chairmen will be extended from three to five years, and they will be supported by three deputies, including one for law and order issues, to be appointed from local police officers. From 1 March this year, the salaries of all mahalla employees will be raised by 35%. It is also proposed to declare 22 March "Mahalla Workers' Day".
Yesterday, at a meeting on improving schemes to fight corruption and strengthen public oversight, Mirziyoyev criticised the work of the Mahalla and Nuroniy Foundations and the Women's Committee, describing the organisations as redundant.
Previously, in May 2018, a decree was enacted transferring the role of issuing a number of important documents from the mahallas to local government offices.