Doctors from hospitals in Tashkent were forcibly sent to work at the quarantine camp in the village of O'rtasaroy outside of Tashkent, the daughter of one doctor who died after working at the camp told Uzbek news outlet Daryo recently.
52-year-old Alisher Uralov worked as a neurophysiologist at the Yakkasaroy centre in Tashkent. According to his daughter, Shahnoza Khasanova, the medic was forced to serve at the shipping-container quarantine camp, despite the fact that he suffered from hypertonia and diabetes and was overweight (in other words, was part of several coronavirus risk groups). Uralov twice refused to comply with the order but, after being threatened with dismissal, eventually agreed.
"Doctors wander around in shock"
Alisher Uralov started working at the shipping-container settlement outside of Tashkent on 14 June. Four days after arriving at the facility, he began to suffer from a high temperature, and on 21 June he was diagnosed with COVID-19 and taken to the hospital where he would normally have worked. The hospital, however, refused to admit him, citing the lack of available beds. The doctor was then sent to the Zangiota district infectious diseases polyclinic, where, according to Khasanova, he was not given any help. "My poor father walked from ward to ward in search of a doctor. There was no doctors' consilium there, no pulmonologist. I called and spoke to him every day. He asked me if I knew any pulmonologists, since no one was helping him," Uralov's daughter said. In the end, on 26 June, the doctor was admitted to the clinic run by the Scientific Research Institute for Epidemiology, Microbiology and Infectious Diseases, where he died the very same day.
According to an official announcement by the Uzbek health ministry, Uralov died from a heart attack, together with acute respiratory and cardiovascular insufficiency. Khasanov was angered by this announcement since, according to her, her father's death certificate cites COVID-19 as the main cause of death. "My father died unfairly. I can't bear this. I want everyone to know. I want the president to know what is actually going on," she said.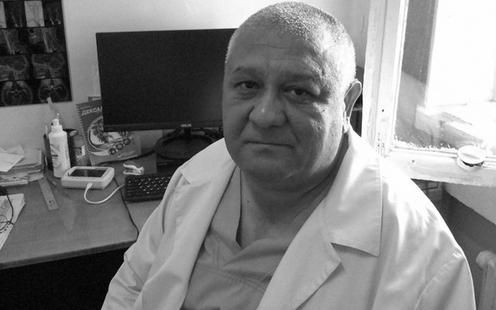 Alisher Uralov. Photo from his personal Facebook page
Before he died, Uralov managed to convey to his daughter that working conditions for medical staff at the quarantine camp were not at all what they should be. In particular, there was a lack of PPE, which should have been in sufficient supply to allow them to be frequently removed and changed. Medical staff had protective goggles, masks and protective gowns, but they were not provided with gloves or plastic shoe covers. Khasanova believes that her father may have been infected with the virus through his unprotected hands while he was washing them following an examination.
The doctor who shared a room with Uralov at the O'rtasaroy camp confirmed what Uralov had related, adding that the camp was badly stocked with medication. He also said that he too had been forced to work at the O'rtasaroy facility. Besides this, no one had given him any instructions about how to carry out his work there. "Imagine: you are at work doing your job as normal, and suddenly you get a phone call telling you to be at the quarantine camp within half an hour. No kind of instructions. In the two or three days before they have mastered what is going on, doctors wander around there in shock. I was busy working in the maternity ward and then had to take myself here directly. Is this really humane treatment?!" He argued that hospital management should make more effort to properly assess who to send to the camp. "Alisher Uralov had a number of health conditions, he should never have been sent there," the doctor said.
Managers at the Yakkasaroy district medical centre told journalists that no one had forced Uralov to go to the quarantine camp, and to support their case they pointed to the fact that the doctor had not handed in a written refusal. The clinic's head doctor stated that, in line with directions from the ministry of health, all hospitals in turn send groups of five doctors to O'rtasaroy and that "all of them return satisfied".
Uralov's funeral took place at the same time as the funerals of two other individuals. His daughter says that both of these people had also passed away from the coronavirus. According to her, the three graves were then marked with the number 965, 966, 967.
After Uralov's daughter's complaints were published in the media, it was announced that Uzbek health minister Alisher Shadmanov had visited the family's home to pass on his condolences. No further details of the visit were disclosed.
No water, no heating and no deliveries
The quarantine camp at O'rtasaroy has been the subject of intense criticism almost from the moment it opened. Those who ended up in the camp complained of poor living conditions and harsh treatment from camp personnel. Even transportation from the airport to the camp was an extremely unpleasant experience for many, with people forced to wait in stuffy, crowded buses for several hours with no food or drink.
According to the testimony of numerous individuals who spent time in the camp, many of the converted shipping containers in which people are accommodated have holes and cracks, through which water seeps when it rains or snows. Air conditioning units and heaters also do not always work, the tap water is undrinkable and bottled water is sometimes brought only once every few days. Yet there is little possibility of complaining – residents' mobile phones and passports are confiscated as soon as they arrive at the airport. Some passengers who had two telephones, it is true, managed to get around this hurdle, handing in one phone when demanded and hiding the other in their luggage. But those who posted about the situation on social media later received visits from state officials and were threatened with criminal proceedings. Cases were even reported of people who complained to camp staff being locked inside their containers.
Those who tied to pass on items and packages to relatives in O'rtasaroy also came up against difficulties. Only limited kinds of items were allowed to be passed on, and in some cases guards demanded a payment of $40 for the privilege of doing so. Even when people paid this sum, often only a part of the delivery would find its way to its recipient. Some former O'rtasaroy residents claim that technical staff there ran a trade in cigarettes stolen from relatives' deliveries – with prices as high as $4 to $7 depending on the brand.
A model container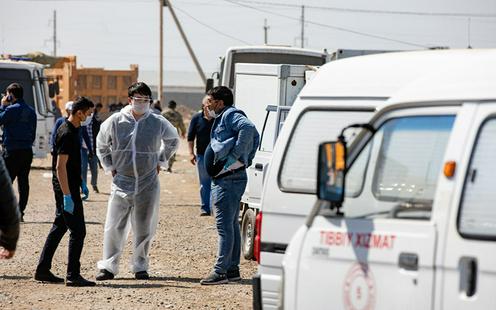 At the quarantine camp. Photo from Uznews.uz
On 20 June, the body of a 42-year-old resident of the city of Fergana was found hanged in his container. Following the incident, a visit to the camp was hastily organised for representatives of the UN, the WHO and the OSCE, as well as local journalists and officials.
The camp management told the visitors that around 15,000 people were staying at the camp at that time (the end of June), and that the camp as a whole was designed to hold 20,000 people. The camp was said to be served by around a thousand medical and technical staff. The delegation was told about food provision at the facility and shown the canteen where hot meals are prepared for camp residents. All food is distributed in single-use dishes which are then burned. Vehicles that distribute the food inside the camp are disinfected after each round. According to the camp administration, providing one person with four meals a day costs the treasury 78,000 soms ($8).
According to civil society activists, besides the camp's maintenance and administrative buildings, delegation members were shown only one "model container" and then allowed to go no further, with the management citing sanitary restrictions. Following the visit, representatives of international organisations concluded that "the conditions correspond to international standards" and positively appraised Uzbekistan's efforts in the fight against the coronavirus.
The delegation members' comments were published in an article by state news agency UzA. The article was prepared with the help of Uzbekistan's National Centre for Human Rights. This organisation has been headed since 1996 by Akmal Saidov, well-known for his statements at UN Human Rights Committee meetings claiming that conditions in Uzbek prisons, too, correspond to international standards.
In spite of the complaints and the attention from international organisations and the media, the situation in the camp has hardly changed, except that 10-litre deliveries of water are now being https://t.me/insider_uz/2992 distributed each day, rather than once every three days as before. People still complain of waiting for hours on crowded buses without anything to drink, and arriving to dirty containers and rude treatment by camp staff. "They talk to you like you're a criminal," one user wrote on the popular Facebook group Potrebitel.uz. "They shout at people like they were cattle." Another user recounted how passengers arriving on a recent flight from the US were initially placed in a hotel, but made to foot the bill themselves – $34 per person per night, which in the case of the individual in question's family would have meant a bill of $1,900 for a two-week stay. Only when it emerged that not everyone was willing to pay such a cost were people taken to the camp. Having seen the conditions at O'rtasaroy, some passengers changed their minds and asked to be taken back to the hotel, but they were refused permission to leave.
In the opinion of some commentators, such a way of organising quarantine measures undermines the effectivity of the fight against the coronavirus – many people, even knowing that they may have been infected, hide it from the authorities and try to make do on their own, simply to avoid ending up in O'rtasaroy. At the same time, significant sums are being spent on keeping O'rtasaroy and similar camps in other regions around the country in operation. According to information from the ministry of finance, Uzbekistan has spent 182 billion som ($17.8m) on constructing quarantine zones for 20,000 people. In addition to this, housing one person at the camp for 14 days costs the state budget 2.2 million soms ($215).
Note: After this article was originally written, changes to Uzbekistan's coronavirus protocol were enacted, meaning that only people returning from countries with severe spreads of the coronavirus are now sent to the camp at O'rtasaroy. Those who have come into contact with confirmed COVID-19 patients inside Uzbekistan are no longer sent to O'rtasaroy and other such facilities but are to isolate themselves at home under medical supervision (this rule was already applied in many cases). Returnees from countries without severe spreads are also allowed to isolate themselves at home under medical supervision. Other changes allow asymptomatic patients to recover at home (whereas they were earlier hospitalised), and reduce the quarantine period from 14 days to 10.
Egor Petrov
Translated and adapted by Nick L.