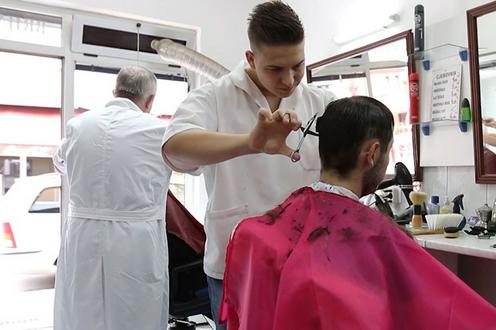 A hairdressing salon in Turkmenistan. Photo rom azathaber.com
Male state employees over the age of 40 in the Lebap region in eastern Turkmenistan have been forbidden from dyeing their hair black, Radio Liberty's Turkmen website Azatlyk reports (in Russian).
The ban on hair dyeing applies to employees at schools, hospitals and other state institutions from 1 February this year. Besides this, those whose hair is naturally black will now be required to colour it grey instead. The directive is said to have been circulated orally.
Institution heads have explained the new regulations with reference the recent change of image undergone by President Gurbanguly Berdymukhamedov, who has stopped dyeing his own grey hair. "Institution heads say that if the Arkadag ("Protector" – Berdymukhamedov's official title – Fergana), comes to the Lebap region, then it will be primarily grey-haired people who are allowed to meet with him," said one state employee in the region's Farap district. People have expressed dissatisfaction with the new directive, since for the last two years, while the president dyed his hair black, the same was demanded of them.
Berdymukhamedov started to appear in public with grey hair in August 2018. After the head of state's change of image, hairdressers and beauty salons in Ashgabat were banned from dyeing clients' hair. At the same time, a campaign was initiated to replace portraits of the president in state institutions across the country.