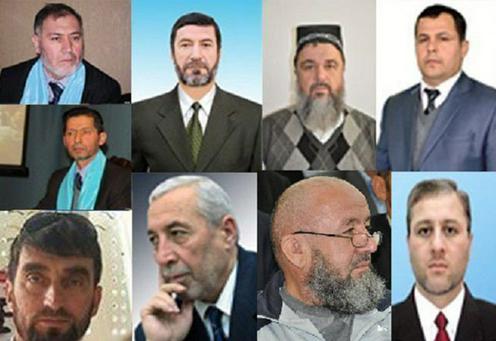 The jailed IRPT leaders. Photos from akhbor-rus.com
The UN's Working Group on Arbitrary Detention has called on the government of Tajikistan to release 11 convicted members of the country's banned Islamic Renaissance Party of Tajikistan (IRPT), the international human rights organisation Freedom Now has announced on its website. The UN group has found that the Tajik authorities acted in contravention of their human rights obligations in detaining the IRPT members.
"It is quite clear…that the basis for the arrest and subsequent detention of the eleven IRPT members was in fact their exercise of freedom of expression and freedom of assembly," Freedom Now cites the UN as concluding.
The working group's decision follows a petition on the matter submitted to it by Freedom Now and international law firm Hogan Lovells in May 2019.
The human rights advocates drew attention to that fact that in May 2019, during the course of a prison riot in the Vahdat penitentiary where many IRPT members were being held, one of them – Sattor Karimov – was murdered and several others sustained serious injuries.
"Our clients continue to suffer deplorable conditions in Tajik prisons, placing their lives in great risk of injury or death. The UN has outlined clear humanitarian and legal reasons why the government of Tajikistan must release the IRPT members from custody without delay. We strongly urge the government to abide by this decision," said Marc Gottridge, a partner with the law firm Hogan Lovells.
A year before the petition was sent, in May 2018, the same UN committee demanded from the Tajik government the immediate release of 60-year-old Mahmadali Hajit, a deputy chairman of the IRPT who had been sentenced to life in jail. The UN concluded that the arrest and subsequent conviction of Hayit was a violation of international law. No official response to the UN's decision was made by the Tajik government.
The authorities in Tajikistan accuse the IRPT of lying behind an armed uprising led by the former defence minister of the country Abduhalim Nazarzoda in September 2015 and declared the previously legal party a terrorist organisation. More than a hundred of its supporters were arrested, dozens received prison terms, and the deputy heads of the party, Saidumar Husaini and Mahmadali Halit were sentenced to life in jail. The party's leader, Muhiddin Kabiri fled the country, fearing reprisals. He was later convicted of 16 different crimes and sentenced in absentia to life imprisonment.
Freedom Now is an international human rights NGO that works for the release of prisoners of conscience around the world. The organisation defends the interests of political prisoners through legal and political advocacy, including the legal representation of clients in national and international courts and in the commissions and agencies of the UN.