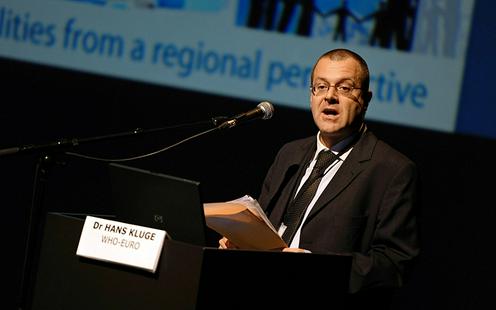 Hans Kluge . Photo from Ich.ch
Teams of experts from the World Health Organisation will be sent to Tajikistan and Turkmenistan next week to verify these countries' claims that they are free from the COVID-19 coronavirus, the director of the organisation's European regional bureau, Hans Kluge, has announced, according to Russian newspaper Kommersant.
As the news outlet notes, WHO representatives have previously acknowledged that there are difficulties in verifying questionable testing results for COVID-19, but have held back from publicly criticising the two countries' governments. The delegations are expected to report publicly on their findings following their visits.
Tajikistan and Turkmenistan continue to insist that they are among the handful of countries around the world to remain free of the virus, the majority of the others being isolated Pacific Ocean island states. The only other comparable territory to make the same claim is North Korea. Responding to a question by the German ambassador to Turkmenistan at a press conference today, Turkmen foreign minister Rashid Meredov assured his audience that the authorities are not concealing cases of COVID-19 from the international community and the WHO. He added that foreign diplomats are welcome to visit the country's quarantine centre in the Lebap region (where opposition media outlets have claimed that several coronavirus patients are being housed).
Until now, state-run and pro-government media outlets have made no mention of this quarantine camp. Only independent media outlets whose websites are blocked in the country have reported on its existence. At the same press conference, the country's health minister even referred to two other quarantine centres, in Turkmenbashi and Karabogaz, for truck drivers and shipping crew.
The Tajik authorities have also denied the presence of coronavirus cases in their country. Officials have stated that widely reported recent instances of pneumonia deaths in Tajikistan are seasonal and the result of "unfavourable weather conditions".