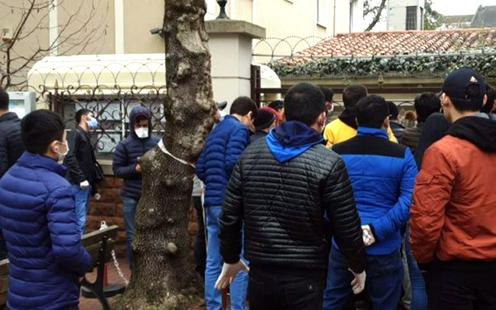 Tajik citizens outside the country's embassy in Istanbul. Photo from Asiaplust.info
70 Tajik citizens who were returned to the country on a special Turkish Airlines charter flight at the weekend have tested positive for the coronavirus, Sputnik writes (in Russian), citing an informed source. Asia-Plus is reporting "more than 50" infections.
All passengers on board the Turkish Airlines flight were tested on arrival at Dushanbe airport and placed in two-week quarantine at a sanatorium 50km from Dushanbe.
Interestingly, both outlets report that only two of the passengers had symptoms, with the others displaying no clinical signs of the virus. Repeat tests have been taken from the asymptomatic cases in order to confirm the diagnosis.
Around 200 Tajiks stranded in Turkey were returned home on 23 May. They had been waiting for a flight out of Istanbul since 20 March, when Tajikistan closed its airports for international flights and had twice written to President Emomali Rahmon, pleading with him to send a plane to collect them. In the end, Turkish Airlines organised the flight since it was flying to Dushanbe to return a hundred Turkish citizens to their home country.
This morning (25 May), 237 Tajik citizens also returned to the country on a UTair charter flight from Moscow. On board the same flight were the bodies of 13 Tajik citizens who had passed away in the Russian Federation. The majority of the returnees were labour migrants who had been held in temporary detainment centres for foreign citizens in Russia ahead of deportation. All of the new arrivals were sent into quarantine at a holiday site 45km from Dushanbe.
As of 25 May, Tajikistan has confirmed 3,100 cases of COVID-19 and 46 deaths. Despite reporting its first official cases of the virus weeks after other Central Asian countries, Tajikistan now has the highest number of fatalities in the region. Testing, however, remains low and, as previously noted on a number of occasions, the frequency with which well-known Tajik figures are dying with confirmed COVID-19 or with coronavirus symptoms suggests a significantly wider spread in society. The latest such cases have been the famous singer and academic Jurabek Nazri (Nazriev), who died yesterday at a clinic where the majority of patients are suspected COVID-19 cases (and where his family members have also been hospitalised), and TV presenter Munira Khakimova.
While the Tajik authorities only acknowledged the presence of coronavirus cases on 30 April (the day before the arrival of a WHO mission sent to check on the epidemiological situation in the country), the death rate for pneumonia in Tajikistan between January and April was 1.7% this year compared to 1.1% last year. The government had previously attributed increasing reports of pneumonia deaths to "unfavourable weather conditions".