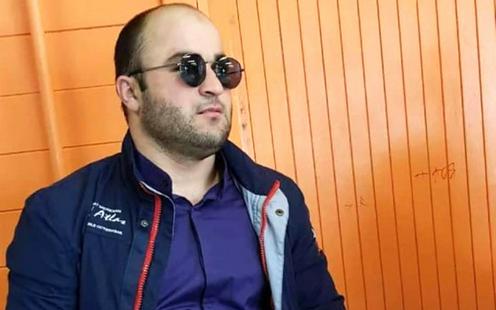 Hizbullo Shovalizoda . Photo from Ozodi.org
Tajik opposition figure Hizbullo Shovalzoda, recently extradited back to the country from Austria, has been sentenced to 20 years in prison, RFE/RL's Tajik service Ozodi reports (in Russian), citing Shovalzoda's relatives.
According to the opposition figure's father, Abdullo Shovalzoda, relatives were not invited to the court session and merely informed of the sentence by telephone. Abdullo Shovalzoda said that he has only been able to see his son one time, while Hizbullo was in pre-trial detention. The Supreme Court of Tajikistan refused to comment on the verdict, stating that information on the case has been marked as classified.
Austria extradited Hizbullo Shovalzoda, a member of the banned (in Tajikistan) Islamic Renaissance Party of Tajikistan (IRPT), to Dushanbe on 5 March.
According to Tajik investigators, Shovalzoda joined the IRPT in 2016 while working abroad, and until 2019 "undertook terrorist training in a foreign country" with the aim of "destabilising the socio-political situation and changing the constitutional order in Tajikistan". A number of former IRPT members arrested between 2016 and 2019 testified to Shovalzoda's participation in terrorist activities. He was charged under articles 305 (Treason) and 307 (Organising the activities of an extremist organisation) of the Tajik criminal code.
The Tajik authorities accuse the IRPT of being behind an armed uprising staged by the country's former deputy defence minister, Abduhalim Nazarzoda, in September 2015, and have declared the previously legal political party an extremist and terrorist organisation. More than a hundred of its supporters have been arrested and dozens sentenced to jail terms, with the party's deputy heads Saidumar Husaini and Mahmadali Hayit both serving life sentences. IRPT leader Muhiddin Kabiri fled the country fearing reprisals. In Tajikistan he was sentenced in absentia to life in jail after being found guilty of violating 16 articles of the country's criminal code.