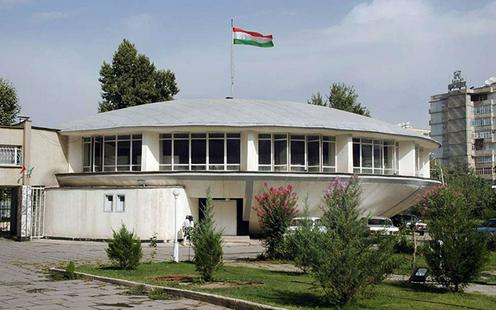 The Supreme Court of Tajikistan. Photo from Asiaplustj.info
The Supreme Court of Tajikistan has opened proceedings in the case of 116 individuals charged with membership in the Muslim Brotherhood (banned in Russia and Tajikistan). Two of the individuals on trial are citizens of Egypt, the remainder are citizens of Tajikistan. Court sessions are being conducted behind closed doors at Dushanbe's detention facility No.1 under the chairmanship of Supreme Court judge Muhammad Rahmonzoda, Ozodi reports (in Russian).
A source familiar with the case told Ozodi that the suspects are being charged under four articles of the Tajik criminal code: 179.2 ("Financing crimes of a terroristic nature"), 307.1 ("Public calls to carry out extremist activities"), 307.2 ("Organising an extremist group") and 307.3 ("Organising the activities of an extremist organisation").
Both lawyers and relatives of the accused refused to speak to journalists, citing case secrecy. Only the father of one of the suspects, Bokhtar resident Nusratullo Aliev, said that he has still not been informed of the reason for his son's arrest. "We bring our son food, but we have not been allowed to see him even once. His lawyer almost never communicates with us," Aliev said, adding that his son worked as an English-language teacher at the Islamic University in Dushanbe and was arrested in February this year.
The Tajik authorities began arresting alleged members of the Muslim Brotherhood in the country in January this year. By the end of that month alone, at least 113 individuals had been taken into custody. Tajik prosecutor-general Yusuf Rahmon stated at the time that among the detainees were an official from the Isfara municipal administration and over 20 employees of various universities, including the Islamic University and the Tajik Institute of Languages. Some of those arrested were later released.
The authorities in Uzbekistan meanwhile announced today that 38 suspected members of extremist organisations have been arrested in the Surkhondaryo and Jizzakh regions.
An underground group composed of 15 local residents was uncovered in the Boysun distict of Surkhondaryo. The organiser of the group is said to have come under the influence of Islamist currents during a period of time spent working in Russia. He then recruited other labour migrants in Russia who were also from the Boysun district. All were young men born between 1986 and 2002. According to the security services, they planned to join Katibat al-Tawhid wal-Jihad (in Uzbek: Tavhid va jihod katibasi; a terrorist organisation banned in Uzbekistan and Russia), and sent money to individuals fighting in Syria. After returning home from Russia, the group continued its activities.
A similar operation in the Jizzakh region led to the arrest of a group of 23 young men said to have been recruited by a local man who acquired extremist ideas while working in Turkey. All were born between 1983 and 1998.
This is the latest in a series of operations in Uzbekistan this year that have led to the arrest of dozens of alleged members of extremist religious groups. In January, an unspecified number of "Jihadists" were reported to have been arrested during one raid. In June and July, members of underground groups belonging to Tavhid va jihod katibasi were apprehended in Tashkent and the Tashkent region.
In January this year, Uzbekistan updated and expanded its list of banned religious organisations and literature, which includes the works of a number of figures who have received political asylum in Europe.