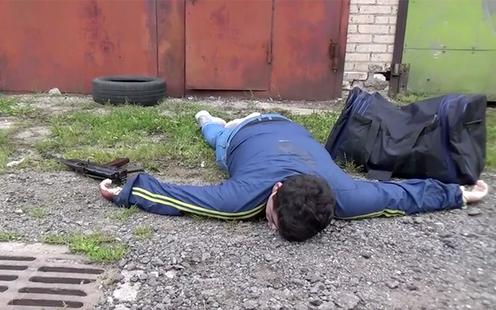 The dead suspect. Still image from video recording by the Russian FSB
Police in the city of Khimki in Moscow Oblast have shot dead a citizen of one of the countries of Central Asia (exactly which country has not been officially named) who was suspected of preparing a terror attack. Russian news agency TASS has reported on the story (in Russian), citing the Russian security agency FSB.
According to one of Interfax's sources, ID documents bearing the name of a Tajik citizen called Odil Kayumov were found on the suspect.
The FSB says that the dead man had links to a terrorist organisation and was preparing to carry out "a mass shooting of civilians". Following the terror attack he allegedly planned to travel to Syria.
The suspect was killed while police attempted to arrest him in an area of abandoned garages. "During the attempted arrest and search, he opened fire on law enforcement officers using an automatic firearm. As a result of countermeasures, the criminal was neutralised (sustained fatal injuries)," the FSB announced. An assault rifle and several grenades were found in his possession.
The man resided in a rented apartment in Moscow. There, it is stated, evidence of his ties to terrorists was recovered.
Komsomolskaya Pravda reports that the deceased man's brother had earlier informed the security services of the alleged terrorist attack. "The young man stated that his relative had sworn an oath to terrorists, who entrusted him with carrying out an act of terror. After passing such a test he would be invited to Syria," the outlet writes. It was reported that the brother had also been arrested, but whether he has been charged with any crime is not yet known.