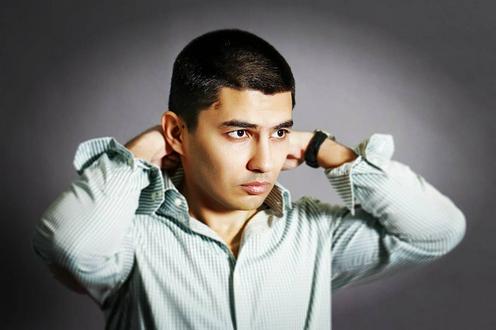 Shohruh Shadmanov. Photo from Afisha.uz
Uzbek rapper Shohruh Shadmanov has decided to run as a deputy. The artist announced his decision on the evening of 5 December on his Instagram page.
Shadmanov is aiming for a seat in the local Kengash (council) of People's Deputies of the ninth sub-district of the Chilanzar district of Tashkent. According to Repost.uz (in Russian) the rapper will run as a nominee of the Uzbekistan Liberal Democratic Party, UzLiDeP.
Shadmanov explains: "I'm involved in the music business as a hobby and feel that life is not just about singing. I too want to make a contribution to the development of our country".
Shadmanov released his debut album Balandda in 2005 to great success. The following year the artist released his second album Bolaligim, which included his first Russian-language song "Etazhi". In 2007 Shadmanov put his career on pause but later continued performing. In 2014 he released his third album Abadiya.
Shadmanov has been called the first major Uzbek rapper. At the start of his career he did not meet with any difficulties from the authorities, but in 2011 rap in Uzbekistan became subject to an unofficial ban. In February of that year the Uzbek youth TV channel aired the film "Мелодия и бедствие" (Melody and calamity), condemning rap and foreign rock music. Following this, artists working in these genres were unable to perform major concerts or have their songs played on TV or radio. For several years, rap concerts were only possible in basement clubs, or artists performed at weddings. The ban was lifted in 2017, when a rap contest was included in the Tashkent student festival "The world through the eyes of students". 2017, incidentally, was also the year in which the district councils of people's deputies were first introduced in Tashkent.