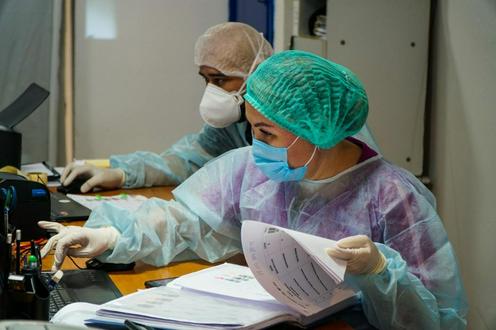 Photo from astana.gov.kz
Kazakhstan will not unify its statistics for COVID-19 and pneumonia cases with negative PCR test results, health ministry spokesman Bagdat Kozhakhmetov stated at a press briefing yesterday. "We indeed provide this information separately," he said. "If anyone needs to obtain the total figure then they can do so by means of a simple arithmetic operation. Besides this, the World Health Organisation is now giving the unified figure on its official website. In accordance with the demands of the WHO, there has been a division into two codes. The first code is for confirmed cases of the coronavirus, the second code is for negative PCR tests. But we have no intention of unifying these statistics."
According to the latest data on 11 August, over the past 24 hours Kazakhstan has registered 722 cases of COVID-19 and 57 cases of pneumonia "with signs of the coronavirus infection". Daily reported pneumonia figures have been fluctuating quite wildly in recent days, however, with over 1,000 such cases registered on most days since records began to be published on 1 August. For comparison, during the height of the country's coronavirus wave starting at the end of June, up to 2,500 such pneumonia cases a day were being recorded alongside around 1,000 PCR-confirmed COVID-19 infections.
The WHO's website may be showing unified statistics, but more popular global comparison sites such as that maintained by Johns Hopkins University, and Worldometers.com still take their figures from governments' official COVID-19 data, meaning that only PCR-confirmed Kazakh cases are visible on them. Unlike neighbouring Kyrgyzstan, Kazakhstan has also refused to include pneumonia cases prior to August 1, after the peak of its epidemic, in its "Covid" pneumonia data, meaning that the figure on the WHO website is not significantly higher than that shown elsewhere.
At the briefing, Bagdat Kozhakhmetov stated that "at present the growth (in the spread) of the coronavirus infection has been stopped. The situation has stabilised and is fully under the control of the authorities and the healthcare system." The country, he said, had "passed the critical period".
This was confirmed by Nur-Sultan mayor Altai Kulginov. He said that occupancy rates at the city's infectious diseases hospitals have fallen from 99% to 18.5% since the start of July. 5 of 16 infectious diseases facilities have been closed and all their patients have been discharged. The number of emergency services callouts related to the coronavirus has decreased by nearly 10 times – from 500 a day to 53. The number of pneumonia patients in hospitals has fallen by 6 times.
Nevertheless, the mayor warned the city's residents not to "lose vigilance, like after the first lockdown". He stated that additional equipment has been distributed to medical facilities in the capital, including nearly 500 oxygen concentrators, 500 special hospital beds, ventilators and CT scanners. Another delivery of ambulances is expected shortly. "In the last two weeks over 110 tons of medication have been delivered to the city. If it becomes necessary then beds will be set up once again at all 16 infectious diseases hospitals. Sports facilities and a number of other sites are also ready for the immediate deployment of hospital beds," Kulginov assured.