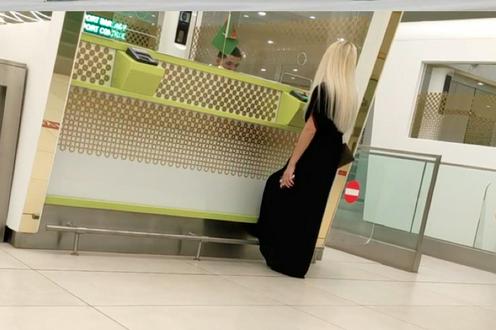 Photo from Turkmen.news
In the second week of January, the Migration Service of Turkmenistan began barring scores of passengers from boarding flights to Turkey. More than 30 travellers were not permitted to board Turkish Airlines flight TK323 from Ashgabat to Istanbul on 10 January, writes TurkmenNews (in Russian).
According to the news website's source, there was no logic to the Ashgabat airport migration service's actions: "They stopped elderly people, young people, married couples, and even just one member of a family," said the source.
Migration Service officers gave no reasons for their decisions, advising people to contact their local migration offices. A representative of the Ministry for National Security responded to passengers' indignation with threats of a life ban on leaving the country. "From every flight, whether it's a Turkmen or Turkish airline, they refuse boarding to a minimum of 10-12 people," the source related.
Among the passengers were those who were travelling for medical treatment, and some of those barred from boarding were in possession of a type of residence permit in Turkey – the oturma izni, as well as work permits — çalışma izni.
Such methods are used by the Turkmen authorities as a way of dealing with the problem of migration. In addition to such measures, pressure is brought to bear on the relatives of migrant workers who remain at home, and life is made more difficult for students studying abroad.
According to classified data from the State Committee on Statistics of Turkmenistan, over the last decade, 1.9m Turkmen citizens have left the country, which represents around a third of the total population. According to official statistics, Turkey, the only country that Turkmen nationals can travel to without a visa, receives around 20-25,000 citizens from the Central Asian republic every month.
Turkey is of course also the country where opposition to Turkmen president Gurbanguly Berdymukhamedov is based. In July 2019, Turkmen nationals living abroad formed a new political organisation in Istanbul, named "Road to Freedom", in order to pressure Berdymukhamedov to enact economic and political reforms and ensure free presidential and parliamentary elections.
Four political parties, as yet unregistered in Turkmenistan, joined the organisation: the Conservative Party of Turkmenistan, the Democratic Liberal Party formed by Turkmen students studying abroad, the Democratic Party of Turkmenistan, gathering supporters of reform who are still living in the country, and the Communist Party of Turkmenistan.