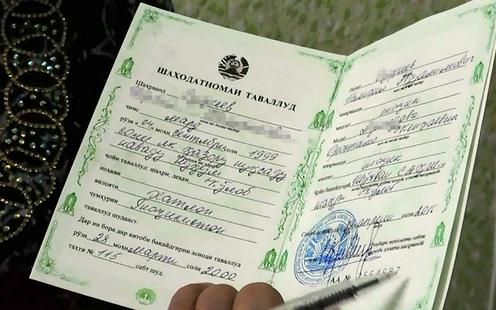 Photo from Ozodi.org
Tajikistan has introduced a legal amendment banning russified patronymics and surnames on new birth certificates. Exceptions will be made only for members of minority ethnic groups living in the country. The amendment to the law "On the state registration of civil status acts" was ratified by the lower chamber of the country's parliament on 29 April, Asia-Plus writes (in Russian).
Following the amendment, registry offices are not authorised to issue birth certificates with family names containing the suffixes "-ov", "-ova", "-ev", "-eva", and patronymics ending "-ovich", "-ovna", "-evich" and "-evna".
The new rules apply only to children registered after the law enters into force, Justice Minister Muzaffar Ashuriyon explained. Those who already have birth certificates with russified surnames and patronymics will be permitted to keep their names unchanged. The minister added that the proposed law amendment was necessary in order to "revive national names".
Since 2007, when the country's president Emomali Rahmonov changed his last name to Rahmon, Tajiks (at first mainly state officials) have started to switch to using local spellings of their names. In March 2016, a ban was introduced on names "foreign to the national culture of the Tajiks" (a move largely targeted at a growing trend of choosing what were perceived as excessively Arabic-sounding and Islamic names, though a vast number of standard Tajik names are ultimately derived from Arabic). The law was amended to require members of the titular nationality to choose children's names from a single unified list drawn up by the State Committee on Language and Terminology. The list included over four thousand Tajik names.
At the time, Tajiks were also recommended to stop using Russian suffixes when registering the surnames and patronymics of their children, and to add the local suffixes "-i", "-zod", "-zoda", "-on", "-yon", "-yor", "-niyo", "-far", "-pur", "-dukht". However, labour migrants heading for Russia started switching back to Russified surnames, thinking that this might make things easier with Russian employees, police and officials. Whether it will now still be possible to revert to using russified surnames was not stated.