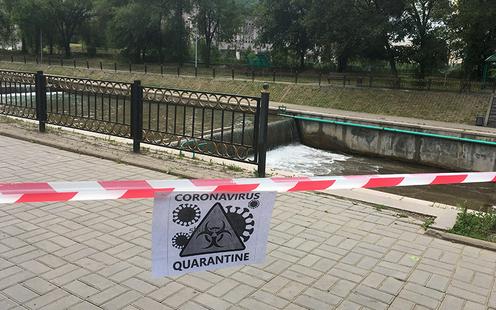 Quarantine sign in Kazakhstan . Photo by Bagdat Asylbek, Fergana
The Kazakh government has proposed introducing a two-week national lockdown starting from 5 July, President Qasym-Zhomart Toqaev wrote today on his Twitter account (in Kazakh and Russian).

"The government has presented a plan to introduce a lockdown from 5 July for 14 days (with a possible extension). After the meeting of the interdepartmental commission tomorrow, the health minister will make a statement," the post says.

Toqaev originally warned of a likely return to strict lockdown conditions on 29 June. He called on the government to draw up plans for a long pandemic and urged the Kazakh public not to succumb to panic or violate sanitary regulations and the sick not to give in to fear and pessimism.

Following this, new health minister Aleksey Tsoy presented the President with 10 initial measures to meet the current emergency and three scenarios for the future development of the epidemiological situation in the country. The optimal scenario, he said, would be a four-week lockdown. This would lead to Kazakhstan registering 2,500 coronavirus patients requiring hospitalisation per day by the end of August and a demand for around 30,000 hospital beds, which generally "corresponds to the present situation" (yesterday it was reported that 2,500 pneumonia patients are being registered each day at present, despite only around 500 positive coronavirus tests daily).

In the event of a two-week lockdown, according to health ministry calculations, Kazakhstan will have up to 7,000 coronavirus patients per day by the end of August, leading to a demand for 80,000 hospital beds. It is currently unclear how such a demand would be met.

Like Kyrgyzstan, Kazakhstan has seen a sharp rise in both official coronavirus cases and pneumonia patients without positive COVID-19 test results in the last two weeks. Today Kazakhstan has reported 1,600 new cases of the virus, a sharp jump on previous days' official figures only because it is no longer counting symptomatic and asymptomatic cases separately. As a result, total official infection statistics have risen to 41,065.