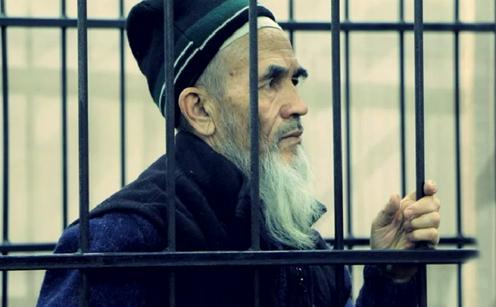 Аzimjan Askarov . Photo from Kloop
Human rights advocate Azimjan Askarov, who was serving a life sentence in a Kyrgyz prison, has died, fellow rights defender Tolekan Ismailova has told Fergana.
Ismailova said that the severely ill Askarov passed away between 10 and 11 am Bishkek time on 25 July. An investigation into his death must now be conducted, she argued.
The ethnic Uzbek human rights advocate, who was sentenced to life in prison in 2010 on what many feel were fabricated charges relating to the deadly ethnic clashes of 2010, was arguably Central Asia's most high-profile prisoner, not counting the political figures Almazbek Atambaev and Gulnara Karimova. A whole host of major international human rights organisations, as well as the Human Rights Committee of the UN, have for years been urging the Kyrgyz government to release him from jail.
Askarov was first reported seriously ill with coronavirus-like symptoms on 20 July. The Kyrgyz prison authorities initially denied the fact, but members of the Kyrgyz ombudsman's office who visited him the following day were able to confirm his illness. On 22 July, lawyer Valeriyan Vakhitov was permitted to see Askarov. Two guards carried him out using their crossed arms in the form of a stretcher. Askarov recounted that he had already been running a high temperature and lost his appetite for ten days. During the course of the conversation, he spoke with a hoarse voice and coughed a lot. Rights advocates from the organisation Bir Duino and Fergana general director Daniil Kislov called for the elderly prisoner to be released.
Rights activists tried to arrange for Askarov to be collected from the prison by private ambulance, but were told that the prisoner could only receive treatment in the prison's medical ward. On 24 July, the penal authorities transferred Askarov to another prison with better medical facilities. His diagnosis remains unknown. The Kyrgyz penal authorities claim that COVID-19 has not penetrated the country's correctional facilities and for this reason there was no need to conduct a PCR test. Only prison service employees would be tested, they said. This is despite the fact that Kyrgyzstan is currently experiencing a major surge of both coronavirus infections and severe cases of pneumonia.
Askarov was sentenced to life imprisonment following the inter-ethnic clashes which occurred in southern Kyrgyzstan in 2010. Prosecutors alleged that the ethnic Uzbek rights advocate urged people to take part in the mass disturbances and was involved in the murder of a police officer. The opinion of other rights advocates – shared by the UN Committee on Human Rights – is that Kyrgyz law enforcement agencies fabricated the case against Askarov in revenge for his previous efforts to call attention to their human rights abuses. Major international human rights organisations such as Amnesty International, Civil Rights Defenders, the Committee to Protect Journalists, the Helsinki Foundation for Human Rights and Human Rights Watch have all spoken out in Askarov's defence and called for his release, as has the UN Committee on Human Rights.
Askarov thus looks to be the latest high-profile prisoner of conscience to die in jail of COVID-19, following the death of journalist Mohamed Mounir in Egypt earlier this month.