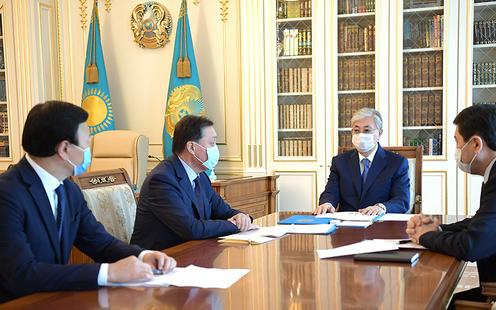 Qasym-Zhomart Toqaev at the meeting on the stabilisation of the epidemiological situation. Photo from the press office of the Akorda
The nationwide lockdown in Kazakhstan is to be extended for a further two weeks. The decision was announced by President Qasym-Zhomart Toqaev today at a meeting on the epidemiological situation in the country, the head of state's press office reports (in Russian).
At the meeting Prime Minister Askar Mamin informed the president of the positive effects of the country's second lockdown, introduced on 5 July – the rate of increase of registered infections has dropped by 29% and hospital occupancy rates have fallen by 43%, with a 27% decrease in intensive care occupancy. The overall number of recovered patients has risen to 63% of total cases. Having listened to reports from both Mamin and health minister Aleksei Tsoi, Toqaev ordered the extension of the lockdown "in order to consolidate the positive effect" of the restrictions, as well as "taking into account the possible worsening of the epidemiological situation in Kazakhstan and in bordering states". Conditions in both Uzbekistan and Turkmenistan (which still denies the presence of the virus and is instead blaming "harmful dust") seem to have deteriorated markedly in recent days.
Yesterday health minister Aleksei Tsoi had stated that the government would be prepared to ease the lockdown from 3 August, providing four conditions were met: an R rate of infection lower than 1, a hospital occupancy rate below 70% over the course of one week, a "steady downward dynamic in the level of fatalities", and the observation of social distancing and mask wearing by the public. At present the infection rate is reported to be 0.99 and the hospital occupancy rate 47%. No information was provided on the changing dynamic with respect to mortalities, but this appears from official death figures (reported weekly) to have remained roughly constant.
Kazakhstan's first lockdown was introduced on 16 March, soon after the detection of the country's first imported cases, and later lifted on 11 May. At this point new infections were being recorded at the rate of 100-150 per day. Just over a month and a half after the lockdown was lifted, this figure had risen to more than 1,500, and on 5 July Kazakhstan became the first country in the world to implement a second nationwide lockdown. This is now the second time the country has extended its second lockdown.
According to official data as of 28 July, Kazakhstan has recorded 86,192 cases of COVID-19 and 793 deaths. 56,638 people have recovered.