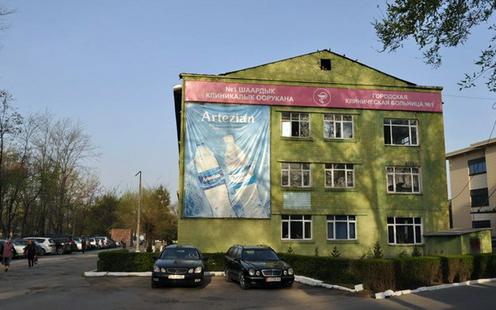 Bishkek City Clinical Hospital No.1 . Photo from Knews.kg
The chief physician at Bishkek's City Clinical Hospital No.1, Jusup Boshkoev, has been dismissed from his post, 24.kg reports (in Russian). The decision was taken by a special commission set up by the Kyrgyz health ministry to investigate complaints of missing PPE and hospital beds being offered for sale at the facility. Health ministry representative Ainura Akmatova had earlier promised that if reports of wrongdoing were confirmed then Boshkoev would be removed from his post.
Boshkoev himself told Kloop that he has only been "temporarily" removed from the position while investigations are completed.
The scandal concerning City Clinical Hospital No.1 began on 6 July, when hospital surgeon Doolot Ibraimov posted a video accusing head physician Jusup Boshkoev of reserving beds for certain people on a list of names passed to hospital staff. At the time, Ibraimov also stated that there was a constant stream of people moving between the main hospital block and an adjacent building housing a private clinic owned by Boshkoev, in violating of quarantine requirements. Ibraimov added that hospital staff were getting infected with the coronavirus due to a lack of PPE.
Boshkoev denied the surgeon's accusations. "I would take him to court, but in the current circumstances there's just no time," Boshkoev said.
Then on 9 July, citing reports by hospital employees, volunteers who had delivered face masks and antibiotics to the hospital stated that their donations had not been distributed to staff there. Boshkoev again rejected the accusations, saying that the masks were in storage, that hospital staff have sufficient PPE and that the 300 donated masks were in any case only enough to last three days. Hospital workers then recorded a video stating that all of the donated material was in storage as staff already have sufficient supplies.
On the same day as his original video statement, Doolot Ibraimov was himself accused of removing a patient – who later died – from a ventilator in order to use the machine for his own sister. After the claim was made, Kyrgyz prime minister Kubatbek Boronov announced that all hospitals treating COVID-19 patients would be provided with a government supervisor. "This kind of information is a clear warning sign. Obviously our hospitals need to be placed under external control. Strong measures will be taken against head physicians who try to profit from the situation," the PM said at the time.
The Bishkek authorities have meanwhile wrapped up active operations at seven previously-inundated temporary hospital facilities as the city continues to recover from last month's intense surge in coronavirus cases. As the mayor's office has explained, "city residents have started to recover and in some facilities there are few patients or even none at all". During their month of operation, temporary day hospitals in the capital have provided 84,689 people with medical assistance and additional night hospitals have admitted 8,688 patients.
As of 5 August, 38,110 cases of COVID-19 have been reported in Kyrgyzstan and 1,438 deaths. The country has unified previously separate statistics on positive PCR tests and cases of pneumonia adjudged to be caused by the coronavirus.