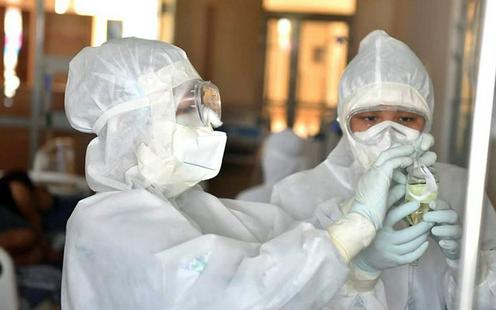 Medical workers at a day hospital in Bishkek . Photo from gov.kg
The Kyrgyz health ministry has announced a fall in the country's coronavirus infection rate, 24.kg reports (in Russian).
Since 19 July, the number of active cases of COVID-19 and community-acquired pneumonia (the number of people who are currently ill) has decreased from 13,201 to 10,790. Already on 22 July, state TV channel Ala-Too 24 was reporting that the flow of patients into Bishkek's recently-established makeshift day hospitals was significantly lower than several days previously and that patients were also coming in with less severe forms of pneumonia. At the facility visited by the news team that day it was claimed that only ten of the facility's 140 beds were then in use, while a few days prior to this people had been waiting for five or six hours to be seen. One medic at another hospital said that whereas they had previously been admitting around twenty pneumonia patients a day, this figure was now down to just one or two.
Health ministry official Ainura Akmatova, however, warned the Kyrgyz public against letting down their guard. "This bitter experience that we have all been through should be a lesson for us. When, at the end of the lockdown, everyone went out onto the streets and went to supermarkets, big shopping centres and cafés, after the 14-day incubation period it all resulted in really bad figures," she noted. Akmatova urged the public to continue to stick to follow quarantine measures.
A state of emergency was declared in Kyrgyzstan in March following the detection of the country's first imported cases of COVID-19, with extensive lockdown measures implemented in Bishkek and a number of other areas. On 11 May the state of emergency was lifted on account of economic concerns. Following this decision, the number of COVID-19 infections rose sharply throughout June and July. By late June, hospitals were filled with pneumonia patients, amid widespread reports of people being unable to secure medical assistance and dying in their homes. Throughout July, the authorities have worked to increase capacity at temporary hospitals and have begun to include pneumonia cases in the country's official coronavirus statistics.
30 July has been announced a Day of National Mourning for the victims of the coronavirus in Kyrgyzstan.