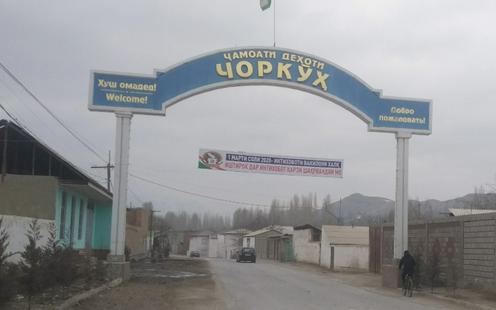 The village on the Tajik side of the border where the shooting occurred . Photo from Asiaplustj.info
An exchange of gunfire has taken place on the Tajik-Kyrgyz border. A Tajik citizen has been killed and a Kyrgyz border guard injured, Tajik state news agency Khovar reports (in Russian), citing the press office of the Tajik Border Service.
According to the Tajik side, the shooting began at 4 am on 6 August on the border between the Langari Mohiyon mahalla in the village of Chorkuh in Tajikistan and Eki-Tash in Kyrgyzstan's Batken region. An unidentified man shot and injured the commanding officer of the Kyrgyz Border Guard Service's Kuktosh border post, Senior Lieutenant Sher Kabirov, using a TOZ-8 small-caliber sporting rifle.
During the same night, 65-year-old Tajik gardener Vohid Vahhobov, a resident of Chorkuh's Somoniyon mahalla, was fatally injured one kilometre from the border. According to a Tajik source, the fatal shot was fired from the Kyrgyz side. Vahhobov was shot in the leg and later passed away from his injury.
According to Kyrgyz new site 24.kg, the Kyrgyz Border Guard Service has confirmed the injury of one Kyrgyz border guard, adding that the shot came from the Tajik side. The soldier sustained a perforating injury to the arm, has received medical care, and his condition is said to be satisfactory. No mention is made in the Kyrgyz border service's statement of any incident involving the shooting of a Tajik citizen.
Routine talks are now being carried out between representatives of the two countries' border services. The two governments regularly have to step in to resolve conflicts that arise in non-delineated and non-demarcated sections of the border, generally over access to water and land.
In May, tensions spilled over in the Chek area of Kyrgyzstan's Batken region over an area of land with no agreed border but which in practice was used by local Kyrgyz. A brief skirmish took place with stones being thrown and shots fired, and Tajik border guards continued the conflict by opening mortar fire. The Tajik embassy in Bishkek was handed a diplomatic protest note over the incident.
On 31 May, a conflict broke out between Kyrgyz villagers and residents of the Uzbek enclave So'kh following a dispute about which side a local spring belonged to. The two side hurled stones at each other and set buildings on fire. Dozens of people were injured on each side.
In June, a Kyrgyz citizen driving along the Osh-Isfahan road was injured in the Eki-Tash area by a shot fired from a hunting rifle from the Tajik side.