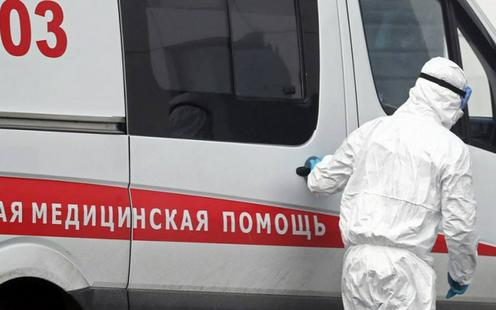 Photo from Meria.kg
Kyrgyzstan set a new record for coronavirus cases today by some margin after registering 439 infections. The previous record of 309 was set on Saturday.

At the same time, the country continues to suffer under wave of pneumonia cases not officially ascribed to COVID-19 due either to the absence of testing or widespread false negatives. On 29 June, Kyrgyz health minister Sabirjan Abdikarimov stated that 54 people had died of pneumonia in the country since March, and today Sputnik has reported that a further 26 pneumonia patients have passed away in the last two days alone. If these people are added to official COVID-19 fatality statistics, as many doctors argue they should be, it would result in Kyrgyzstan's death figures more than doubling.

Today, deputy health minister Madamin Karataev argued that it was not right to do as some other countries do and include people without positive coronavirus test results in national COVID-19 statistics. He added that 70% of pneumonia patients at major hospitals in Bishkek are in a critical condition.

Worrying reports have also been coming in recently of overstretched healthcare resources and people dying before they can receive medical care.

Opposition TV station Aprel today quoted a doctor at the National Coroners' Centre of Kyrgyzstan, Ainura Asylbekova, as saying that coroners are currently conducting around double the number of callouts compared to normal, and that half of these deaths are being caused by pneumonia.

"People are dying from pneumonia in their homes. They are not even making it to medical facilities to receive first aid. They are simply dying at home without medical assistance. For five days they are unable to get through either to the emergency services or to 118," Asylbekova said, referring to widely reported problems of emergency hotlines being unable to keep up with demand.

The news outlet initially contacted Asylbekova after one reader reported seeing Bishkek morgue overfull and bodies lying on the floor. The medical examiner said that the morgue is not currently overfull, but that there has been a clear rise in death numbers. Many people between the ages of 40 and 70 are dying of pneumonia without receiving confirmation that they have COVID-19, she said. "The youngest guy was 44 years old. He had had two negative PCR test results, but he still died at home from clinical pneumonia."

Asylbekova said that many relatives of deceased individuals are failing to follow basic sanitary regulations and are conducting funeral services with a large number of visitors. "Since people are dying without a confirmed coronavirus diagnosis, many people are concealing the cause of death. They have sick relatives right alongside them, but the houses of many of them are still full with visitors. People come for funerals, homes are packed, there's an enormous amount of contact between people. It's a huge breeding ground for infection," the coroner said.

In several Bishkek hospitals themselves, the picture seems to be one of confusion and heated temperatures as a large influx of patients means medics have to make quick decisions on who to hospitalise and who to turn away to preserve capacity that is already stretched to the limit.

A video showing two people with pneumonia dying outside of the National Hospital in Bishkek has meanwhile been circulating on Kyrgyz social media. As Sputnik reports, the incident occurred on 29 June. The recording shows how a nurse wearing full PPE and a face mask tries to give one individual spread out on the back seat of a car mouth-to-mouth resuscitation while another person has collapsed near the hospital entrance.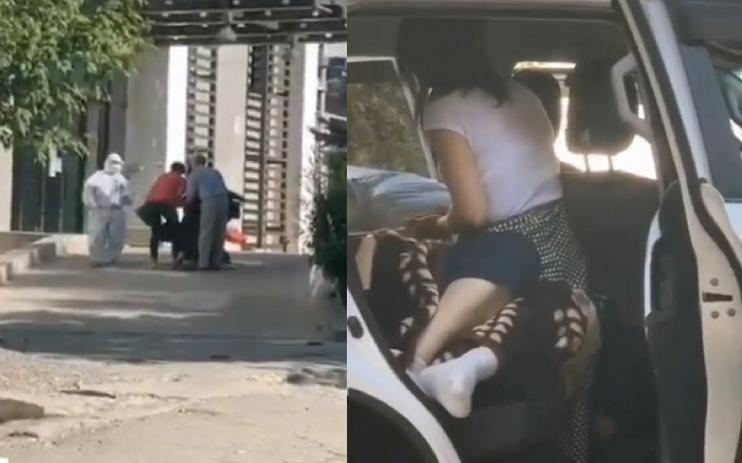 Still images from the amateur video outside of the National Hospital


Hospital doctors stated that the patients had been brought to the hospital "in an agonising condition" and medics therefore did not even have time to take them into the building for examination and establish their identity. "Medical workers tried to carry out resuscitation on the street but were unable to save the two patients," the hospital administration stated. A doctor at the hospital later confirmed to 24.kg that the two individuals in question had died from pneumonia.

For several weeks already, but with increasing desperation over recent days, state TV in Kyrgyzstan has been warning people about the dangers of samolechenie (self-treatment) and pleading with people to seek medical care before it is too late. The message is clearly yet to hit home.

Commenting on the current pneumonia wave and the reliability of official Kyrgyz statistics today, our Russian website wrote the following: "It is also worth pointing out that in rural areas of Kyrgyzstan the institution of state coroner is not especially well developed. Some morgues do not even have refrigerators, and many people consider it important to bury their relatives before sunset on the death of death, in accordance with Islamic tradition. It is not uncommon for relatives to prevent autopsies from being conducted even in cases of violent death. The bodies of elderly rural residents who die from respiratory difficulties in many cases probably also do not undergo an autopsy and are not tested for COVID-19."

As pneumonia cases mount, Kyrgyzstan's deputy health minister Madamin Karataev hit an alarming note today by stating that the country does not have enough ventilators or oxygen concentrators, Sputnik writes (in Russian).

Karataev said that Kyrgyzstan had 473 ventilators before the start of the epidemic, and had recently been able to acquire 20 more. Another 220, however, are said to be required. The situation with oxygen concentrators is even more acute. Before the epidemic, the country had 610 of them and has since added another 110. A further 2,003, though, are needed.

At the end of March, the Kyrgyz health ministry stated that the country had 625 ventilators and would soon be receiving another 200 from the World Bank. It is unclear why the figures today are different. Rough calculations we carried out back in April based on projected need for ventilators in the US suggested Kyrgyzstan could need as many as 2,000 ventilators to cope with a severe epidemic, though the country of course has a significantly younger population.

Karataev said that the health ministry is currently working to purchase the necessary equipment. A delivery from China is expected on 3 July, and talks are currently being held with Russia and Turkey over additional supplies.

As a result of the wave of pneumonia cases, the municipal administration in Bishkek has decided to reintroduce a number of previously eased lockdown measures, KaktusMedia reported today (in Russian). Bishkek has been at the centre not just of the recent pneumonia wave, but also of Kyrgyzstan's coronavirus epidemic more generally. Of today's record 439 new COVID-19 infections, 195 were in the city of Bishkek and a further 175 in the surrounding Chuy region.

Speaking before parliament yesterday, Kyrgyz president Sooronbay Jeenbekov said that he had no intention of reintroducing a state of emergency and general national lockdown, in contrast to Kazakhstan.
Public transport in the capital will now operate only on weekdays between 7 am and 10 am and from 5 pm to 9 pm. Cafés and restaurants may only open between 8 am and 8 pm, supermarkets and shopping centres between 7 am and 7 pm, and markets between 6 am and 5 pm. Street stalls and bike rental points are to be closed, along with children's playgrounds. Nightclubs, bars and other entertainment establishments are also to close.

Access to parks, public squares and other busy sites will be restricted, though it is not yet clear whether they will be totally sealed off. Fergana's correspondent in Bishkek reports that vehicles mounted with loudspeakers are once again patrolling the city's streets, reminding people to stay at home.

As the head of head of the intensive care unit at one of Bishkek's main hospitals, Egor Borisov, put it on Twitter yesterday: "This is hell. And it's only just beginning".