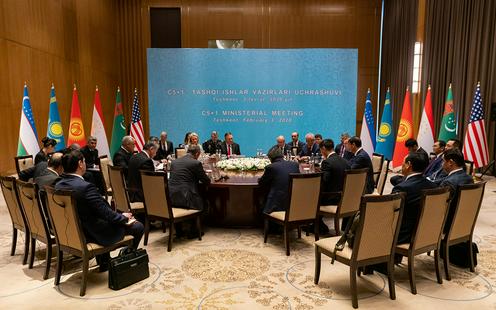 A meeting of the C5+1. Photo from the Twitter account @SecPompeo
The US State Department has revealed its new regional strategy for Central Asia. The document was published on the department's website.
It was earlier reported that the strategy had been presented to the region's foreign ministers in the course of US Secretary of State Mike Pompeo's recent visit to Tashkent.
The US government pledges to promote regional cooperation in Central Asia. Among other things, it will do this by supporting the development of a unified electric grid in the region (such a grid was established during the era of the Soviet Union, but following the disconnection of several countries from the grid in the 2000s, its effectiveness was reduced). The United States will also continue to organise joint military training exercises with members of the region's armed forces.
Cooperation with Central Asian nations in the sphere of counter-terrorism and counter-extremism will also continue, including through working together with local law enforcement organs and border services. According to State Department statistics, the United States has invested over $90m into strengthening border security in Central Asia and training border personnel.
The strategy also covers the promotion of cooperation between Central Asian states and Afghanistan in energy, trade and other spheres.
In addition, the US will support the development of civil society in the region's countries and reforms aimed at strengthening the rule of law.
According to information from the State Department, to date the USA has provided over $9bn in direct assistance to support economic development, democratic reforms, security and humanitarian needs in the region. The private sector in the US has invested more than $31bn, leading to the creation of thousands of jobs. The United States, the report notes, has also influenced the extension of over $50bn in credit, loans and technical assistance as part of international credit programmes.