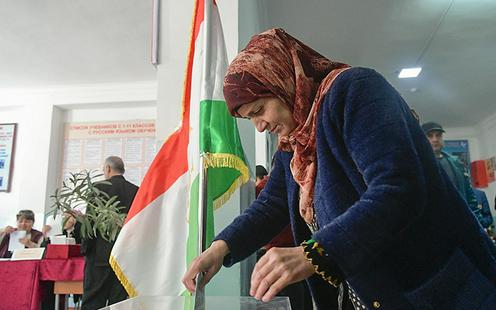 Voting in the parliamentary elections in Dushanbe. Photo from Asiaplustj.info
The governing People's Democratic Party of Tajikistan has won the parliamentary elections in Tajikistan with 50.4% of the vote (12 parliamentary seats by party list), preliminary results suggest. The remaining votes were split between the other parties as follows: the Economic Reform Party – 16.6% (4 mandates), the Agrarian Party – 16.5% (4 mandates), the Democratic Party – 5.1% (1 Mandate), the Socialist Party – 5.1% (1 Mandate), the Communist Party – 3.1%, and the Social-Democratic Party – 0.32%. The preliminary results were announced by the head of the Central Commission for Elections and Referenda, Bakhtiyar Khudoyorzoda at a press conference in Dushanbe, Avesta reports (in Russian).
The latter two parties thereby failed to overcome the 5% electoral threshold to enter parliament. However, Communist Party leader Miroj Abdullayev's previously-announced victory in the Muminabad single-mandate electoral district means that the communists are assured of at least one seat. The final distribution of seats in parliament will become clear when all votes from single-mandate districts have been counted.
Around 4.24 million voters, or over 86% of all eligible voters took part in the elections. At the last parliamentary elections in 2015, the rate was 87.7%.
Of the 63 deputies of the Majlisi Oli's Majlisi Namoyandagon (the lower chamber of parliament), 22 are elected by party list (on the basis of one country-wide electoral district), and the rest from single-mandate electoral districts. In the previous parliament, the PDPT had 51 seats, the Agrarian party had 5, the Economic Reform Party 3, the Communist Party 2, and the Socialist and Democratic parties one each.
Besides the parliamentary elections, elections were also held on 1 March for regional, district and municipal majlises (councils) of people's deputies. 3,400 polling stations were set up around the country, with another 39 at Tajikistan's diplomatic missions in 30 countries.
238 candidates competed for the 63 parliamentary seats on offer. 173 of them were nominated in the country's 41 single-mandate districts and 65 by party list. 48 women were among the candidates (20% of the total). Around 230 international observers were present to observe the elections.