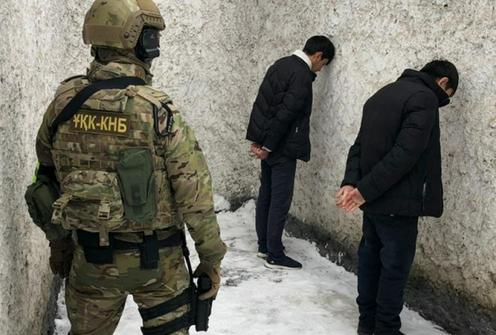 The two men arrested on terrorism charges. Photo by the press office of the Kazakh National Security Committee
Officers of the National Security Committee of Kazakhstan (NSC) have arrested two men suspected of of planning a terror attack in the country, Informburo.kz writes (in Russian), citing the press office of the NSC.
The operation to arrest the two men was carried out on 14 February. The pair are stated to be "adherents of a destructive religious movement", though no mention is made by the NSC of which movement in particular.
A home-made shrapnel bomb was recovered from the men's residence, together with material used to make the bomb, bladed weapons and smartphones with photos and video recordings of suspected attack sites. According to prosecution material, the suspects were planning several terrorist acts, including attacks in crowded public places. The pair have been charged with preparing a terrorist act (article 255 of the criminal code of Kazakhstan) and advocating terrorism (article 256).
According to the NSC's Counter-terrorism Centre, three terrorist acts were averted in Kazakhstan in 2019, two of which radicals planned to carry out in Almaty and one in the Karaganda region. The activities of seven radical groups and 34 separate individuals around the country were intercepted by security officers. 140 people were convicted of terrorism-related offences.