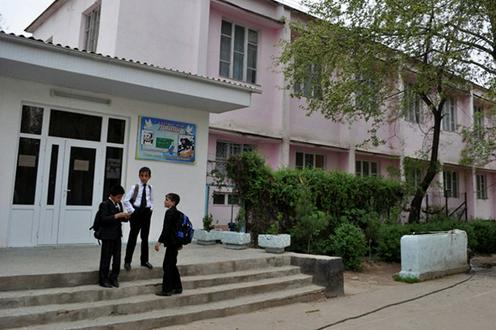 A school in Tajikistan . Photo from Today.tj
All kindergartens and schools in Tajikistan will be closed for an unscheduled vacation between 27 April and 10 May, Asia-Plus writes (in Russian). The decision has been taken by the country's leadership as a way of warding off the spread of the COVID-19 coronavirus infection.
It was also announced that all public events, including sports events, public meetings, cinema showings and theatre performances, have been temporarily banned, and an embargo on the export of all kinds of grains and beans, rice, potatoes and meat has been introduced.
Tajikistan remains one of a small number of countries around the world still yet to officially confirm any cases of COVID-19, the majority of the others being isolated Pacific Ocean island states, as well as North Korea and Turkmenistan.
The press office of the Ministry of Education and Science explained that the short holiday is not a quarantine measure, as there is officially no coronavirus epidemic in the country. Nevertheless, the authorities plan to use this period of time to carry out the disinfection of educational institutions in accordance with the government's programme for preventing the spread of the coronavirus in Tajikistan. The ministry added that a decision would shortly be taken on putting university students too on vacation.
Just before the announcement, the municipal authorities in the Tajik capital Dushanbe carried out the mass disinfection of the city's streets, bus stops, park benches and apartment blocks with chlorine. The work was conducted mostly during the evening and night.
There has been significant media attention on a number of recent pneumonia deaths in Tajikistan, sometimes accompanied by disturbing measures like burial at an undisclosed location or with a closed coffin and the quarantining of family members of the deceased. This led the country's health ministry on Friday to publish statistics showing that the number of pneumonia cases in the first quarter of this year was actually lower than in 2019. The data, however, did not provide information about fatalities, and did not include April, when the majority of the well-publicised cases have occurred.
Meanwhile, the World Health Organisation announced recently that it would be dispatching special missions to both Tajikistan and Turkmenistan to verify the alleged absence of COVID-19 in the two countries.