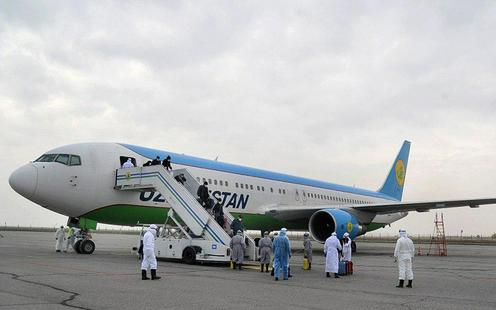 A charter flight returning Uzbek citizens to Uzbekistan. Photo from Kun.uz
As of 12 May, 55,000 individuals had registered on the Uzbek embassy in Moscow's online waiting list for charter flights returning Uzbek citizens to Uzbekistan. Another 10,000 have registered at the country's consulates in other regions of Russia, the press office of Uzbekistan's diplomatic mission in Russia has announced on its Facebook page (in Russian).
Due to the COVID-19 pandemic and the closure of borders and suspension of international flights in Russia and Central Asia, millions of labour migrants from Central Asian countries have found themselves cut off from their homelands. From the end of March until 12 May, a "non-working period" has been in place in Russia, leaving labour migrants without incomes. A series of charter flights have been arranged by Central Asian governments, but they have been far from sufficient to cope with the huge demand.
Uzbek diplomats say they are actively working to bring Uzbek citizens back from Russia, but have to give priority to those with health problems, the elderly, young children, pregnant women and people who had already obtained tickets for previously cancelled flights.
Meanwhile, a number of Uzbeks have made ill-advised attempts to return home by car. Between 11 and 12 May alone, around 500 Uzbek nationals are said to have arrived in Russia's Orenburg region on the border with Kazakhstan, having heard false rumours that the border would be opened from 11 May. Local media report that other migrants have been waiting at the border there for more than ten days. The migrants recorded a video message to Uzbek president Shavkat Mirziyoyev appealing for help, but the country's authorities are yet to make any decision on the matter.
The plight of labour migrants during the COVID-19 crisis has been covered in a number of articles on our Russian website. Besides direct workplace closures and layoffs, an additional problem migrants face is that the Russian authorities are sealing off hostels (where a large proportion of labour migrants live, often several hundred in one building) if COVID-19 cases are detected there. Those stuck inside who still have work are then forced to go without pay and often lose their jobs. Some hostel owners are even evicting lodgers who show COVID-19 symptoms out onto the streets for fear of their premises being placed under quarantine.
As many experts have explained, had Russia introduced a state of emergency during the coronavirus crisis then the government would be legally bound to provide compensation to those who have been deprived of their incomes due to lockdown measures, Russian citizens and migrants alike. This, however, has not been done, presumably for this very reason.
The end of the non-working period does not mean things will get any better quickly for most labour migrants, with lockdowns in Moscow and St. Petersburg scheduled to remain in place until at least May 31. Those in truly desperate straits are able to appeal for food aid by calling a special government hotline set up for the pandemic. A number of different charitable organisations and funds are of course also engaged in providing charity to struggling migrants, including the initiative #ПомощьЕСТЬ! (#ThereIShelp!) launched recently by a group of Russian businessmen to provide food aid to migrants in need ("What will happen to these people if we don't help them? It will be a direct path to street crime, a great danger for society, and we are talking about a large number of people. We have to help," one of the founders explained). For Uzbek migrants, a special fund coordinated by the Uzbek embassy in Moscow has begun providing one-off payments of $170 to especially vulnerable groups. Yet one recent article argues that such initiatives are a drop in the ocean compared to what is needed, with critics calling for a more centralised and coordinated response.