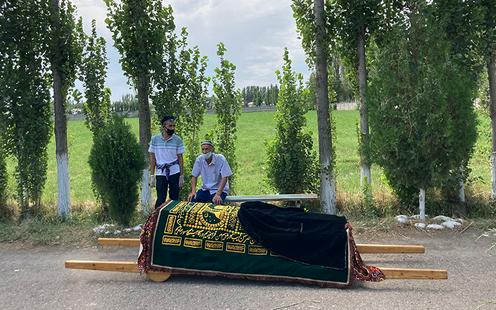 At Azimjan Askarov's funeral . Photo by Timur Karpov, Fergana
Human rights advocate Azimjan Askarov, who passed away with coronavirus symptoms last week in prison in Kyrgyzstan, has today been buried in Uzbekistan, Fergana's sources report.
The funeral ceremony took place in the village of Yangibozor in the Tashkent region. Askarov's body was transported to Uzbekistan through the Dostuk border crossing in Osh at midday local time on 31 July. Askarov's widow Khadicha accompanied her husband's coffin and was met on the Uzbek side by her son. Askarov himself had requested to be buried in his historical homeland. In addition, his relatives feared that in Kyrgyzstan his grave could become a target for vandalism. Yesterday, the Kyrgyz authorities finally granted permission for his remains to be taken out of the country.
Photographs by Timur Karpov, Fergana
The ethnic Uzbek rights defender Azimjan Askarov, who was serving a life sentence in Kyrgyzstan on what many believe to be fabricated charges relating to the 2010 ethnic clashes in the south of the country, was first reported seriously ill on 20 July. The Kyrgyz authorities, however, rejected calls to release him on health grounds. On 24 July, Askarov was transferred to more adequate medical facilities at another prison. He died the following morning.
A post-mortem concluded that Askarov had died of pneumonia. He was not given a test for COVID-19. The Kyrgyz prison services do not test prisoners for the coronavirus, arguing that such a step is unnecessary, despite the fact that Kyrgyzstan has been suffering from a severe surge in infections over the last month.
Askarov was sentenced to life imprisonment in September 2010 following the inter-ethnic clashes which occurred in southern Kyrgyzstan earlier that year. Prosecutors alleged that the ethnic Uzbek rights advocate urged people to take part in the mass disturbances and was involved in the murder of a police officer. The opinion of other rights advocates – shared by the UN Committee on Human Rights – is that Kyrgyz law enforcement agencies fabricated the case against Askarov in revenge for his previous efforts to call attention to their human rights abuses. Major international human rights organisations such as Amnesty International, Civil Rights Defenders, the Committee to Protect Journalists, the Helsinki Foundation for Human Rights and Human Rights Watch have all spoken out in Askarov's defence and called for his release, as has the UN Committee on Human Rights. Askarov attempted to use the UN committee's support to challenge his sentence earlier this year. In June, however, Bishkek administrative court refused to consider his appeal.
The UN Human Rights Committee, the EU and a number of international human rights organisations have all expressed their dismay at Askarov's death and called for a transparent and impartial investigation to be carried out.