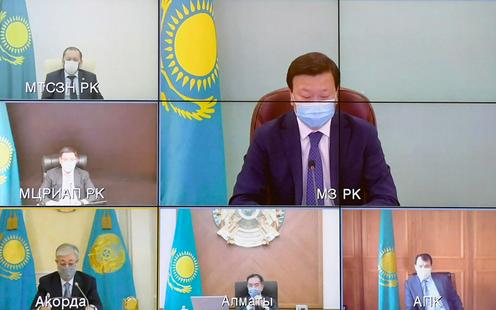 Tsoy at the video conference with President Toqaev . Photo from the website of the Akorda
Kazakhstan's new health minister Aleksey Tsoy – who took over the job recently following his predecessor's hospitalisation with COVID-19 – has put forward recommendations for a new four-week nationwide lockdown, Tengrinews.kz reports (in Russian).
Yesterday Kazakh president Qasym-Zhomart Toqaev ordered the government to draw up plans for a return to a strict general lockdown following the deteriorating epidemiological situation in the country. The new health minister has today presented Toqaev with a number of preliminary measures and three possible scenarios for the development of the epidemic in the country, with the most advisable course of action being a month-long general lockdown.
According to the first, "worst-case" scenario, in which no lockdown is introduced, Tsoy said that Kazakhstan would be registering 27,000 cases of COVID-19 per day requiring hospitalisation by the end of August (to put this in perspective, the country has to date reported fewer than 22,000 cases since the start of the epidemic; though asymptomatic cases have not been included in official statistics since the start of June and if these are added then the true figure is almost 40,000). In this case, the total required capacity for coronavirus patients in Kazakh hospitals will be 300,000 beds.
The second scenario envisages a two-week national lockdown, leading to 7,000 patients requiring hospitalisation per day by the end of August and a requirement for 80,000 hospital beds.
The third, recommended, scenario is that of a four-week lockdown. This would lead to 2,500 cases demanding hospitalisation per day by the end of August, and hospital capacity of 30,000 beds, which more or less corresponds to current circumstances. "I consider this prognosis the most effective in terms of breaking the chain of infections among the population, as well as preparing the necessary infrastructure," Aleksey Tsoy said.
In the course of the same meeting, the health minister stated that Kazakhstan is currently registering up to 2,500 cases of pneumonia per day, despite the fact that symptomatic coronavirus cases are being recorded at the rate of about 500 per day. "Since 10 June we have been seeing a significant rise in cases of pneumonia with clear symptoms of COVID-19 but negative PCR test results. In recent days this has gone up to 2,500 new cases of such pneumonia per day," Tsoy said.
This is not the first suggestion that coronavirus test kits in Central Asia may be producing significant numbers of false negatives, leading to large volumes of unexplained pneumonia cases that are otherwise highly unusual for this time of year. State TV in both Kazakhstan and Kyrgyzstan have switched to talking about rising pneumonia cases rather than just COVID-19 in recent days, with sharp increases in pneumonia hospitalisations being reported in certain areas of the two countries. Yesterday, the head doctor of one hospital in Bishkek said that the situation at his hard-hit facility had convinced him that some negative COVID-19 test results are inaccurate. "Whole families are falling ill with pneumonia at the same time, these things just don't happen. This is COVID-19 with negative PCR results," Jusup Boshkoev explained. At the end of last week, the head of Kyrgyzstan's Centre for Emergency Medicine, Iskender Shayakhmetov, said that paramedics are seeing a significant number of patients with negative test results who are still showing all the symptoms of COVID-19. The total number of ambulance callouts has doubled and many of them concern cases of pneumonia, which are normally almost non-existent at this time of year, he said.
Aleksey Tsoy's briefing also set out 10 initial steps to boost Kazakhstan's struggling healthcare capacity. In general, these measures followed Toqaev's demands yesterday for improvements in the areas of testing, supplies of medication and equipment, and the creation of mobile testing and treatment units. Tsoy also echoed Toqaev in praising the central government response while criticising state agencies and local-level authorities, particularly for failing to effectively communicate with the public and thereby leaving people in a state of confusion. Toqaev yesterday called for more effective public communication campaigns.
(For more information on both of these points, see our Russian-Language news items, here and here).