As more and more Uzbeks are struggling under the severe lockdown imposed to curb the spread of COVID-19, there has been increasing discussion in Uzbekistan of ways to support the embattled population. Following a couple of recent announcements by President Shavkat Mirziyoyev, the Uzbek government's preferred strategy for dealing with social consequences of the coronavirus crisis seems to be clear: a mobilisation of the private sector, above all large business. In return for various concessions from the government, company owners are to do their best to provide jobs and aid for those in need. Here we summarise several recent news stories and longer articles by Sid Yanyshev and Lolita Yuldasheva on our Russian website about the Uzbek government's approach.
At a government meeting on 20 April, after noting that the number of unemployed people and those in need of assistance was rising, President Mirziyoyev declared that it was time to expand the scope of existing efforts focused on identifying those in need and delivering food and medication to their doors. For this reason, he said, "taking into account the historical and moral values, the generosity, perseverance, zeal and other such lofty virtues of the Uzbek nation", he was proposing the creation of a "nationwide movement" to be called "Generosity and Assistance" (Saxovat va ko'mak).
Explaining a little more concretely what he had in mind, Mirziyoyev reminded his audience of the imminent start of Ramadan. "It would be beneficial", he said, if, during the holy month of Ramadan, every business owner would generously take it upon themselves to actively support vulnerable groups living in their local areas.
"According to his means, one business owner can help, for instance, ten families for a month, another business owner can help twenty families and give work to members of families in need. In turn, the government will provide such entrepreneurs with various concessions and benefits in terms of taxes, leasing, credit and access to resources, depending on the level of assistance they provide. By this means, the state provides support to the public via businesses and entrepreneurs," Mirziyoyev said.
The "Generosity and Assistance" fund is to be established in partnership with local and regional branches of chambers of commerce and industry, banks and social welfare agencies and run from the offices of the existing welfare foundation "Mahalla". Drawing on donations and charitable gifts from businesses and private individuals, the fund's remit will be to provide assistance to large families, elderly people who live on their own, people with disabilities, the temporarily unemployed, those who have been deprived of their sources of income and other citizens in need. The help provided will be in the form of both financial aid and everyday necessities like groceries and medicines.
Mirziyoyev stressed the importance of the voluntary participation of large enterprises, farmers and agricultural and industrial clusters in the "movement".
The fund, Mirziyoyev concluded, would be "a practical demonstration of the strength of the Uzbek state and people". "In difficult times," one regional deputy wrote in a later article on the website of the state news agency entitled "Generosity and assistance – the practical expression of the inherent qualities of our people", "it becomes clear who is who, and the spiritual physiognomy of a people appears. In this sense, we should fully support this initiative and direct all of our efforts to its realisation. If each of us, according to his own material circumstances, provides assistance to families that need it, then this will truly turn into a nationwide movement. Good deeds are what truly make us human."
Charity and the state
The impetus behind "Generosity and Assistance" is not new, even if the possibility has been raised recently of direct financial assistance from the state. For weeks already, the main means of helping those in need has been centrally-coordinated charity. Back towards the start of the lockdown measures in March, a widespread volunteer movement arose to help families left without their incomes or at-risk groups encouraged (and then ordered) to stay at home. In Tashkent alone, at least twenty groups sprang up uniting thousands of volunteers busily collecting donations, purchasing groceries and distributing them to low-income families. From 1 April, however, the country's special commission in charge of the fight against COVID-19 ordered the suspension of individual charitable acts towards vulnerable members of society on the grounds that they increased the risk of spreading the virus among the population. "Considering the epidemiological situation in our country, it can be said that individual charitable actions, conducted without the observance of sanitary and hygiene regulations and quarantine demands, place the lives of the public, and especially the elderly, at serious risk," the commission's statement declared.
Instead, the entire operation was brought under government control. A special fund, "Mehr-shafkat va salomatlik" (Mercy and Health), was created under the Ministry for Mahalla and Family Support, to which people could make their contributions. Centres for the Coordination of Charitable Actions were established in Tashkent and regional capitals, where groceries and goods either directly donated by organisations and individuals or bought by the state with its own or donated funds are stored. Sorted on-site, the grocery products are then delivered to the addresses of those in need. Volunteers working at each step are provided with the necessary protective equipment. Around the country, such coordination centres are said to have provided 219,000 families with food and hygiene products. In Tashkent, the Telegram channel of the municipal authorities provides hourly updates of exactly which companies have provided what donations.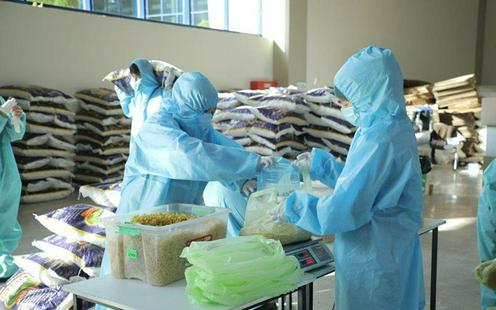 Volunteers working on food parcels . Photo by the press office of Tashkent hokimiyat
In order to receive the Tashkent centre's assistance, there is a special phone number that those in need can ring. It can, though, be hard to get though. Sometimes it takes five or six attempts, and even then the queues are long. On social media, people write that it is sometimes impossible to get an answer. This may be because the number of those in need of food handouts in the capital is growing by the day. According to local residents, around two weeks ago they received their food parcels within 24 hours. Now those who make it through the telephone queues are told to expect their delivery in a week.
Such coordinated donations (with the state itself being a major donor) are not the only social measures enacted by the government to deal with the crisis. 60,000 families (a 10% increase) have been added to pre-crisis lists of families qualifying for financial and material assistance and extensions have been granted on $340 million of consumer loans. Parents and caretakers forced to stay at home due to school closures have been placed on paid leave, to be funded by the state's own anti-crisis fund (itself a mix of borrowed state funds and donations). Clearly, however, these steps are not enough.
Because of the growing problems, there has been increasing talk of introducing some kind of direct financial support, as is currently in place in Kazakhstan (though this has been set at the low level of $96 a month and does not cover the many people previously employed in the informal sector). Two days prior to Mirziyoyev's announcements, Deputy PM Jamshid Kuchkarov stated in an interview that the government had discussed the possibility of direct financial assistance to the public back in March, but that no decision had been made. "The most difficult question is to whom and how. If it weren't for the pandemic, we would send cash payments to every home. The experience of other countries shows that paper money can be a carrier of the virus," the deputy head of state said. Another problem, he added, is that a large number of Uzbeks work in the informal sector.
During the course of the same double interview, Finance Minister Timur Ishmetov argued that money should be distributed directly to people's bank accounts. "We don't see any other way. If people don't have bank accounts then they will have to open one," he said.
Mirziyoyev's current proposals, then, would seem to signal a clear decision against such direct financial aid in favour of extending more or less coordinated charity. Indeed, while discussing the urgent need for social assistance in the session on 20 April, the president criticised the idea of the state distributing cash benefits to the public. "Our country has sufficient reserves and capacity to both secure the welfare of the public and support the economy. There is no more straightforward path than handing out money to the public. But not a single economist can predict what consequences such a step might have. In addition to this, it is highly likely that it would increase corruption," the head of state declared.
Discontent
Criticisms of Mirziyoyev's proposals were not long in coming. They came in part from ordinary members of the public, disappointed over the lack of direct financial support from the state, and in part from small and medium-sized business owners who felt that the government was unfairly trying to place the burden on them when they are already hard hit by the crisis.
"It is very sad to say it," wrote one Facebook user, "but our government has turned its back on us. Such crises happen once every hundred years and this was a unique chance for the authorities to show their better side, but alas."
Some users felt that the authorities are showing double standards by refusing to provide direct assistance to the public. "Oh how nicely they have shifted responsibility off their own shoulders on this one. Shamelessly but epically! Especially when they have been handing out cars for triplets with the right names, giving away apartments and cars, not to mention all these Cities (the reference is to concessions for business parks in various towns — Fergana) around the country," wrote another person.
Others argued that providing assistance only indirectly, through entrepreneurs, would render the measures less effective, since business owners might distribute aid arbitrarily. It would also open the door to various schemes, whereby companies exaggerate the amount of aid they have provided in order to secure preferential treatment from the government.
Small and medium-sized business owners reacted the most sceptically to Mirziyoyev's plans. Given the finance ministry's recent report that 80% of Uzbek companies have either suspended or significantly curtailed their activities during the current crisis, most of them small and medium-sized, this is perhaps not surprising. The owners of these businesses are generally unable to work, sitting at home and many are themselves in need of material aid. "The president's proposal to shift the responsibilities of the state onto the shoulders of entrepreneurs is total rubbish," the owner of a notebook repair company told Fergana's correspondent. "What good is a government that throws its citizens to their fates in their hour of need? What sort of charity is possible if business itself is dying? The company my wife and I run used to employ several people, now we're sitting at home with nothing to do. So just how I am supposed to give anyone any help, still less hire them for work that demands concrete knowledge of electronics I have no idea."
"My daughter runs a small business," wrote another user on Facebook. "She had to send her workers home and now she herself has no work. She has two pensioners and a disabled uncle to take care of. If only the mahalla (local community organ, involved in social welfare) paid some attention to our plight. We're running out of food. We're too ashamed to call the call centre – there are people who are even worse off than us."
Others are worried that such "voluntary" deeds could become obligatory, as was the case under Islam Karimov, or are concerned at how easily this scheme could degenerate into state rewards for perceived "loyal" behaviour.
"Generosity and Assistance" in action
As Mirziyoyev hinted in his speech, however, the main target for the proposals is large enterprises. Many large businesses continue to operate, even if some of their workers are on leave. And many of these organisations are ready to help. Indeed, many of them have already been doing so.
"Yes, of course we are willing to help, and we already are helping," said Vlad Li, head of the advertising department of the home appliance chain MEDIAPARK. Many of the company's employees have long been participating in daily voluntary work on the construction of a new makeshift hospital for coronavirus patients in the Tashkent region, he said. "Besides this, since the very start, when the finance ministry set up the Anti-crisis Fund a month ago, our company has regularly been transferring significant sums into it. Though we would prefer not to advertise the amount of aid we have provided, since in the current situation we are doing this not for PR purposes but from the bottom of our hearts."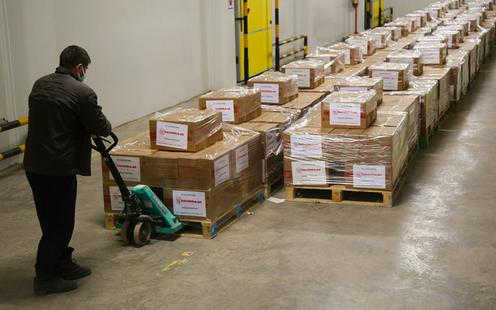 Food packages from the chain Korzinka.uz
A representative of the major supermarket chain Korzinka.uz also says that his company is ready to join "Generosity and Assistance", and, again, has already been carrying out charity work. At the start of April, Korzinka.uz sent 1,000 food packages to poor families, pensioners and others currently experiencing difficulties. The supermarket chain worked together with local mahalla committees in the areas around its stores to draw up a list of those in need.
At a later session on 22 April, Mirziyoyev himself fleshed out his earlier suggestion that business owners should provide not just aid but also jobs to those in need. The president cited the examples of an agricultural business owner in Samarqand who had given work to over 500 poor families by preparing ground for a 600-hectare vineyard and then dividing it into plots for the families to grow crops and vegetables on and providing them with seed, and a metals firm owner in the same city who had distributed food to a thousand families and given jobs to a hundred individuals. Mirziyoyev then stated that entrepreneurs and farmers who help poor families to sow crops in their gardens, set aside land of their own for such families and provide possibilities for various forms of work from home will in turn be rewarded with tax payment deferments or government loans.
Through the coordination of such efforts, Mirziyoyev charged a special team under the Ministry of Economic Development and Poverty Reduction and the State Tax Committee with finding seasonal work for 110,000 individuals and social work for another 167,000.
These proposals join previous measures which the government claims have distributed food to 219,000 families and provided work to 142,000 individuals, as well as the benefit, loan-deferment and paid-leave policies mentioned above. To fund these and other measures during the crisis, the Uzbek government has reached agreements to borrow $1.6 billion from international financial institutions ($375m from the IMF, $500m from the Asian Development Bank and $750m from the World Bank).
There have been some encouraging signs in recent days, with Mirziyoyev ordering the gradual relaxation of quarantine measures in areas of the country with no cases of the virus or where the situation appears to be improving. Construction work has also been permitted to resume and large stores in certain branches and some types of offices, such as commercial banks, allowed to reopen. But with the general lockdown set to remain in place until at least 10 May and the country's battle against COVID-19 still in its early stages, it remains to be seen if existing social measures, plus "generosity and assistance", will be enough.