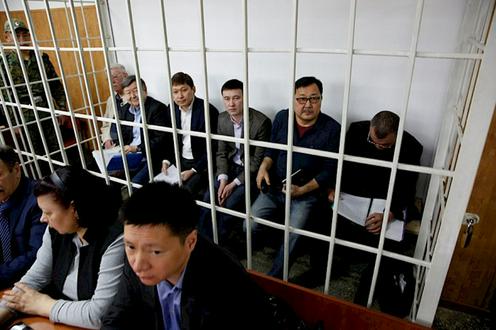 The defendants in the Bishkek CHP power station case
Former prime minister of Kyrgyzstan Sapar Isakov has been found guilty of corruption in connection with a project to modernise the Bishkek thermal power station and sentenced to 15 years in prison, reports Kaktusmedia (in Russian) 6 December.
Former director of Kyrgyzstan's National Energy Holding Company Aibek Kaliev also received a 15-year sentence as part of the same case. Jantoro Satybaldiev, who occupied the post of prime minister between 2012 and 2014, was given 7 years and 6 months. The project's manager Temirlan Brimkulov received 2 years and 6 months (and was released on account of time served awaiting trial).
Ex-finance minister Olga Lavrova was fined 3m Som and released after the trial. Former energy minister Osmonbek Artykbaev was fined 5m Som and also released from detention.
Former head of the company Electric Stations Salaydin Avazov and his ex-deputy Joldoshbek Nazarov were both set free.
Criminal proceedings into the thermal power station corruption case were initiated following a major accident that took place in January 2018. Several of the station's boilers failed, and for a few days temperatures in Bishkek apartments fell to 8-10 degrees below zero. Investigations concluded that embezzlement had occurred during the $386 modernisation of the power station.
Isakov was sacked as prime minister in April 2018, and in May of that year he was charged in the power station case. In June the former PM was placed under arrest. He himself claimed that the charges were politically motivated. Then, during 2018, relations between former president Almazbek Atambaev and his successor Sooronbay Jeenbekov began to turn sour. Isakov was known as Atambaev's "right hand". He was the most senior member of the group around ex-president Atambaev to be removed from office and placed under criminal investigation, until Atambaev himself was arrested in connection with a number of criminal charges in August 2019.
In his final words in court, Isakov maintained his innocence. He claimed that Jeenbekov was taking revenge on him for the sacking of a member of the powerful Rayimbek Matraimov clan from the position of deputy head of the State Customs Service. A number of journalistic investigations into the actions of the Matraimov family are currently eliciting widespread debate in the country. Isakov pointed out that in reaction to these investigations, Jeenbekov has spoken of the need for a prior establishment of the facts. "But we were held in detention without evidence for ten months, so that they could fabricate what they needed for the trial," complained the former PM.