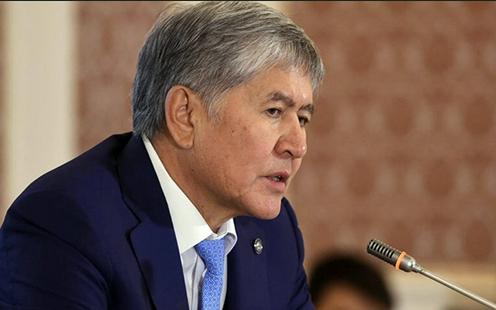 Almazbek Atambaev. Archive photo from sdpk.kg
The office of the prosecutor-general in Kyrgyzstan has requested that former president Almazbek Atambaev be found guilty of the illegal release from prison of the "thief in law" (vor v zakone – essentially an organised crime boss) Aziz Batukaev and sentenced to 15 years in jail, 24.kg has reported.
State prosecutors have requested that Atambaev be stripped of all state awards and his property be confiscated. The prosecutor's office have also demanded a 15-year sentence for former prosecutor-general Indira Joldubaeva, who is a co-defendant in the case. Sentences of 13 years in jail have been requested for two other state officials – former advisor to the head of the State Penitentiary Service Kalybek Kachkynaliev and former director of the National Haematological Centre Abdukhalim Raimjanov. A total of 19 defendants are involved in the case.
Atambaev's lawyer Zamir Jooshev stated that the corruption charges are not supported by the evidence presented by the prosecution. "The court should free all four of them," Jooshev said.
Aziz Batukaev was released from jail in Kyrgyzstan in 2013 on the basis of medical reports stating that he was suffering from a terminal illness. Batukaev then immediately flew to Chechnya, where his family originally comes from. It soon emerged that the medical reports had been forged, but the Kyrgyz authorities have failed in their attempts to extradite Batukaev back to Kyrgyzstan. At the time no one was held accountable for the crime boss's flight.
In the spring of 2019 (as relations between Atambaev and his successor Sooronbay Jeenbekov were reaching a new low), the investigation into the case was reopened and became one of the pretexts for stripping Atambaev of his immunity from prosecution. Investigators summoned the former president for questioning on several occasions, but he consistently ignored their demands. Atambaev was finally arrested following a two-day storm of his residential compound outside of Bishkek by Kyrgyz special forces. The events of the raid – during which one special forces soldier was killed – form the basis for another set of charges against Atambaev.