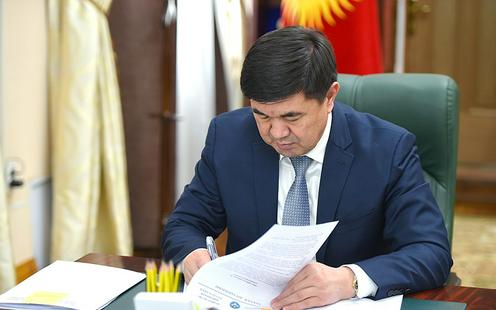 Mukhammedkaliy Abylgaziev . Photo from Gov.kg
Kyrgyz prime minister Mukhammedkaliy Abylgaziev has placed himself on temporary leave following accusations that he participated in the unlawful sale of airwaves, the Kyrgyz government's website has announced today (in Russian).
The accusations against the current PM were made by Jogorku Kengesh (Kyrgyz parliament) deputy Janar Akaev. In a statement placed on the government's website, Abylgaziev has once again stressed that the charges levelled by Akaev are unfounded. "But in order to avoid accusations of exerting any kind of pressure on the investigation, and in the interests of ensuring that it is conducted in an impartial fashion, I have felt it necessary to take a short period of leave from my official duties," the prime minister explained.
On 14 May it emerged that Kyrgyzstan's State Committee for National Security (SCNS) had arrested the director of the State Communications Agency, Natalya Chernogubova, who had left her post several days previously. It was announced that Chernogubova was suspected of illegally renewing the licence of one of the country's telecommunications operators. Later, journalists discovered that the affair was far more extensive than this and was connected to the sale of airwaves. Besides Chernogubova, the number of defendants in the case expanded to include her former deputy, two employees of the State Committee for National Security, and the cable television company Ala TV's director for strategy and development.
According to RFE/RL's Kyrgyz service Azattyk, law enforcement organs have been looking into the purchase of Ala TV by Russian mobile giant Beeline. The TV company, which owns the rights to the 200MHz frequency band, was reported to have cost the operator $1.8 million. In March 2020, the frequency was re-registered for 4G. According to some reports, this was granted to Beeline for the sum of just 700 Kyrgyz soms ($9). On 20 May, parliamentary deputy Akaev contended that Abylgaziev had a duty to prove that he had not participated in the scheme. In response, Abylgaziev said that it was he himself who had tasked the State Service to Fight Economic Crimes and Corruption with opening an investigation into the case.