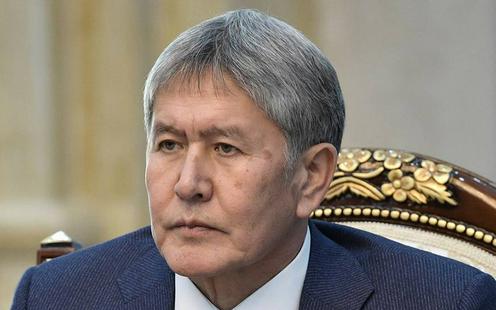 Almazbek Atambaev . Archive photo from Kremlin.ru
Former President of Kyrgyzstan Almazbek Atambaev has been sentenced to 11 years and two months in prison and had his property confiscated and been stripped of his state awards for the unlawful release of crime boss Aziz Batukaev, AkiPress reports (in Russian).
The Pervomayskiy District Court judge found Atambaev guilty under article 319 of the Kyrgyz criminal code (Corruption). Ahead of sentencing, defence lawyer Sergei Slesarev stated that prosecutors had failed to provide evidence proving his client's guilt. He also said that Atambaev himself would not be making a closing statement. Sentencing remains underway for another 19 co-defendants in the same case.
Update: Kloop has now reported that the remaining defendants have all been released. 15 of the 19 made deals to cooperate with the prosecution which meant that they would be subject to fines only. Atambaev, former prosecutor-general Indira Joldubaeva, former advisor to the head of the State Penitentiary Service Kalybek Kachkynaliev and former director of the National Haematological Centre Abdukhalim Raimjanov were all excluded from the deal. Joldubaeva has been sentenced to pay a fine of 5 million soms ($66,700). Kachkynaliev received a sentence of two years in jail, but since each day in pre-trial detention counts as two days of time served, his sentence has been considered served and he was released from court. Raimjanov was also found guilty but exempted from punishment under the statute of limitations.
Atambaev occupied the post of president between 2011 and 2017 and became the first elected Kyrgyz head of state to step down from the role at the end of his term without the helping hand of a revolution. Relations between him and his successor Sooronbay Jeenbekov then soured and Atambaev went into opposition. In 2019 he was stripped of his immunity from prosecution and from June of that year he holed himself up with a number of his supporters at his residential compound in the village of Koy-Tash. In August the compound was stormed and Atambaev arrested in a special forces operation in which one special forces soldier died. Charges were brought against him in a series of corruption cases, as well as for the armed clashes during his arrest.
The case relating to Batukaev's unlawful release is the first to be brought to court, but Atambaev has categorically refused to leave his detention cell to appear in court or to cooperate with Kyrgyz law enforcement. According to prosecutors, as president in 2013 Atambaev was personally involved in the fraudulent scheme by which "thief in law" (crime boss) Batukaev was released from prison on the strength of falsified medical documents stating that he was suffering from a terminal illness. Batukaev immediately fled Kyrgyzstan for Chechnya, where his family is originally from, and subsequent attempts to extradite him have failed.
Atambaev's arrest has led to the collapse of the Social Democratic Party of Kyrgyzstan (SDPK), which functioned as the country's ruling party during his years as head of state (and of which current president Jeenbekov was also a member). Kyrgyzstan is currently gearing up for parliamentary elections this autumn without any clear pretenders to the role of leading party. The future composition of the Kyrgyz parliament – and the future political development of the country as a whole – at this stage remain unpredictable.