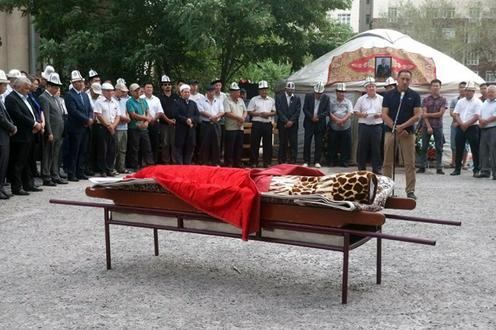 The funeral of Usenbek Niyazbekov. Photo from Kaktus.media
Former president of Kyrgyzstan Almazbek Atambaev has been officially named as a suspect in the murder of special forces operative Usen Niyazbekov during the storming of the ex-president's residential compound in the village of Koy-Tash, reports news website 24.Kg (in Russian).
In a speech to the Jogorku Kenesh (parliament), Internal Affairs Minister Kashkar Junushaliev stated that thus far only one thing is fully clear – that Niyazbekov was shot by a Dragunov sniper rifle. Whether Atambaev had any involvement in this is a matter for the investigation to determine, but he has been named as a suspect.
Immediately following the storming of the residential compound, Atambaev maintained that none of his supporters had carried firearms. The former president asserted that only he was carrying such a weapon. In so doing, he effectively assumed responsibility for the murder of the special forces operative himself, gunshot wounds having been found on the dead soldier's body. At the time, however, this theme was not developed further. Atambaev was merely charged in connection with a number of corruption cases, as well as for the unlawful release of crime boss Aziz Batukaev and the disturbances in Koy-Tash.
Atambaev was president of Kyrgyzstan until 2017. The new head of state Sooronbay Jeenbekov initially saw him as an ally, but relations between the old and new presidents quickly began to sour. In 2019 Atambaev became a staunch critic of Jeenbekov's government. In June his immunity from prosecution was lifted, and on 7 and 8 August the country's special forces carried out a raid of his residence which ended in Atambaev's arrest. Niyazbekov's death was the only casualty during the raid.
Atambaev is currently in detention awaiting trial on the various charges brought against him. The first case against him (concerning the release of Batukaev) has already gone to trial, but the former president has refused on principle to take part. Proceedings have been constantly delayed on various grounds. On 9 December, the findings of a state commission investigating the Koy-Tash events were made public. The commission's members concluded that Atambaev was to blame for the incident, and was alleged to be planning to carry out a coup d'état. His supporters have strongly criticised the findings.