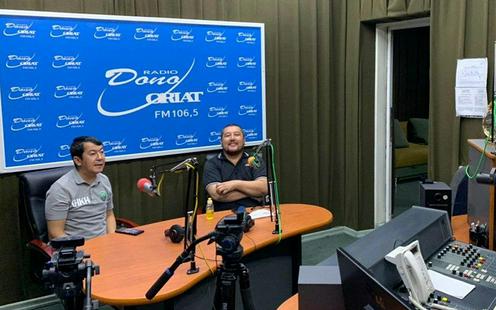 Jamoliddin Babajanov and Bobur Akmalov. Still image from video on Repost.uz
The editor and lead director of the Uzbek television channel Sport who criticised the state news channel O'zbekiston 24's coverage of flooding caused by the Sardoba dam burst during a live radio broadcast have been removed from their jobs, a source familiar with the situation told Fergana.
Whether they were fired for any specific contractual violation or themselves chose to resign, the source did not say.
During the course of a football programme on the radio station Oriat Dono, Jamoliddin Babajanov and Bobur Akmalov accused O'zbekiston 24 of propagandistic coverage of the current situation in the flooded districts around the Sardoba reservoir. Sport's lead director Babajanov commented that, watching O'zbekiston 24, he had got the impression that local residents were glad to have had their properties flooded. "In our country everything is fantastic on paper and on the channel O'zbekiston 24, but in real life everything is totally different,"Babajanov said. The channel's editor Akmalov agreed with him and compared TV images of beaming Uzbeks with citizens of North Korea.
Akmalov added that he had read that state TV had interviewed locals who had not had their houses flooded and that people whose properties had suffered damage were not taken to meet the president. "You saw on TV that people are happy, the president was met with applause. When you look at them, you think they are citizens of North Korea. People whose homes have been flooded are not happy. But in these images on the streets it's all smiles, everyone is full and ruddy-cheeked like they've just eaten plov. Does this seem likely?" he said.
In response, Alisher Khajaev, the head of the national TV and radio company (of which Sport, like O'zbekiston 24, is part), accused the journalists of violating company ethics, and of "baseless and inappropriate criticism of the work of the greater collective in which they operate, from the platform of another media outlet" and ridiculing and casting doubt on efforts to improve the situation during a testing period for the country. It was ironic, he said, that sports journalists had shown their lack of understanding for the value of team spirit, which sportsmen rate so highly. "Everyone is entitled to express their opinion," Khajaev wrote, "but if one member of a family (for example one of the brothers) goes to a neighbour's house and starts speaking ill of his brother then our people will always see this as being contrary to Uzbekness and morality." He also claimed that CNN and the BBC would fire journalists for taking such actions, before ominously suggesting that the same should happen to Babajanov and Akmalov.
All records of the argument were later deleted from where they were first published: the whole episode of the programme featuring the original critique was removed from the radio site Oriat Dono (excerpts remain on a backup channel on YouTube), and Khojaev's criticism of his subordinates was removed from his Facebook page (though a copy remains in the Facebook group Xalq bilan Muloqot (Dialogue with the People).
This latest episode come after several previous stories of repressive measures taken against journalists in relation to the Sardoba disaster and will further call into question the Uzbek authorities' commitment to free speech reform.
Alisher Khajaev headed the Uzbek television and radio company for twelve years between 2005 and 2017. Some commentators and experts took his removal from the post as the beginning of efforts to reform Uzbek television, with new president Shavkat Mirziyoyev announcing that the days of "hurrah-patriotism" on TV were over and that critical and analytical material needed to appear on television screens. However, Khajaev's first replacement, former minister for the development of IT and communications Khurshid Mirzakhidov, lasted a mere five months, and his replacement managed even less than a month. By August 2017 Khajaev had returned to his former role and has remained in place ever since.