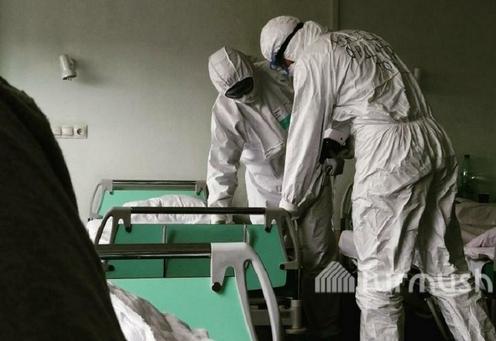 A coronavirus ward in Kyrgyzstan . Photo from Turmush
Kyrgyz parliamentary deputy Dastan Bekeshev today sent a letter to the country's prosecutor-general requesting an investigation be opened into a recently-released video showing a young doctor making what appears to be a forced recantation of a previously-voiced critique of protective equipment at a local hospital.
"The State Security Committee has lost it on this one," Bekeshev wrote of the video in a Twitter post yesterday, vowing to pursue the matter further.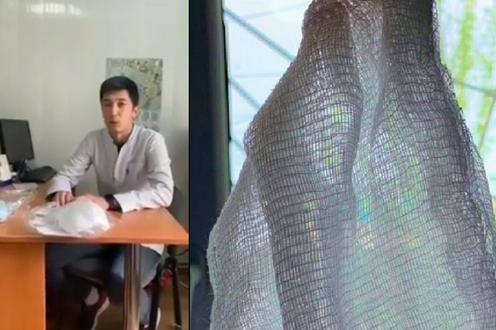 Bektur Apyshev and the picture he posted of the mask he refused to wear. Screenshots from the later video and his now-deleted post on Twitter
In a Twitter microblog that the young doctor, Bektur Apyshev, ran under the name @Bektur1130, it was reported that medical staff were being provided with poor-quality PPE (personal protective equipment). "Today when I started my shift they gave me these masks with holes so big that a gnat could easily get through, let alone COVID-19! And then people are surprised that medical staff get infected. I refused to wear them and took single-use masks instead," Apyshev announced, posting a photograph of a gauze bandage.
On 9 April he criticised the government's decree on special compensation to doctors who contract the coronavirus at work. "Promising 200,000 soms to infected doctors, and then finding all kinds of reasons not to pay them, for example that they caught the infection at some private event. How typical this is of our government," the doctor wrote.
The following day, 10 April, Apyshev complained that he had been called to a meeting with the hospital management, adding that he expected nothing good to come of these talks: "In the best case they will give us some decent masks, in the worst case I'll be joining the ranks of the unemployed". Soon after this his social media account was deleted and a video of him making a public apology appeared on the internet. In the short video, Apyshev says that he posted "false information about poor-quality masks".
"In actual fact the clinic has a full set of PPE and masks. I apologise for spreading false information," the doctor says before donning a medical face mask.
On Kyrgyz social media, people suggested that the young doctor had been forced into issuing an apology and forbidden from telling the truth about the lack of protective gear in hospitals. Kaktus.Media reports that Twitter users started a chain of their own mock forced recantations. "I wish to apologise before the nation," wrote one user, "for falsely slandering the authorities, parliamentarians and the corrupt."


The State Committee for National Security later denied that it had exerted pressure on or even spoken to Apyshev. "Against the backdrop of the situation with the coronavirus, all over the world certain individuals are trying to create a bit of cheap PR for themselves by spreading unreliable information," the SCNS's press office stated.
Commenting on the incident, the country's deputy health minister, Nurbolot Usenbayev, said: "Yes, indeed, one day doctors might report problems and the next day they are forced to apologise. This is not right. We'll have to make sure people understand this." The deputy health minister, however, did not make it clear if he would be taking Apyshev's side in the matter or not.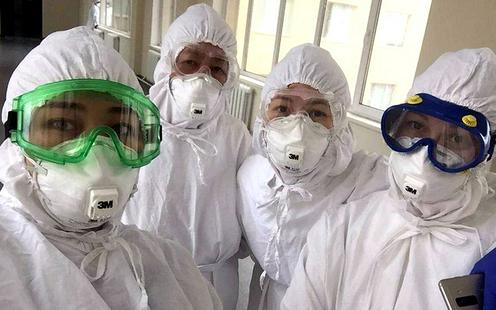 Photo from the press office of the Kazakh health ministry
Meanwhile, in Kazakhstan the head of the public health authority in Nur-Sultan, Saule Kisikova, has labelled recent complaints about a lack of protective equipment by staff at a tuberculosis clinic in the capital "weakness", according to a report by Vlast.kz.
At the start of April, staff at the city's tuberculosis clinic posted on social media complaining that they were being poorly fed and forced to wear the same single-use protective gowns for several days at a time. Besides this, they said that they had not received promised bonuses for working with coronavirus patients. The government earlier approved extra pay for medical staff serving in the fight against COVID-19 of between 212,500 tenge ($500) and 850,000 tenge ($2,000) depending on their positions (for comparison, a typical monthly wage in Kazakhstan is around $450-500).
"Yes, such an incident did occur," Kisikova later said at a press conference. "Colleagues of ours – mid-level medical workers at our infectious diseases hospital – gave in to such weakness, there was such a situation. Currently they have all been placed in quarantine, in other words they are on a two-week break"
In reply to journalists' questions as to whether those who had made the complaints would be fired, the health department head assured her audience that after their time in quarantine the medics would be returning to duty. "We have no plans to get rid of them. We've invested a lot in them," she said.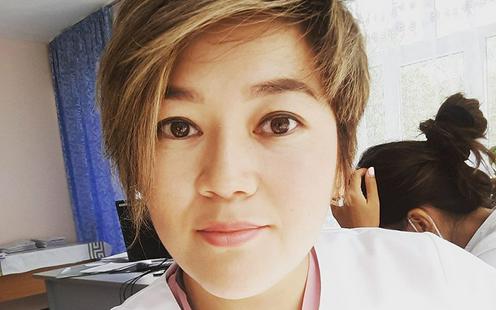 Tolkynay Ordabayeva . Photo from her personal Facebook page
A couple of days before this, infectious diseases doctor Tolkynay Ordabayeva at the Merken district hospital in the Jambyl region wrote on Facebook that she had been infected with the coronavirus. According to her, the hospital management had not provided staff with PPE and instead forced them to sew their own masks themselves. Besides this, doctors were being made to work excessively long shifts, resulting in weakened immunity. She also claimed that the Jambyl regional health leadership were concealing cases of infection among medical workers.
Following her post, the regional authorities announced that they would be investigating her claims and assured the public that medical staff in the Merken district hospital had been provided with sufficient stocks of PPE. The ruling Kazakh party Nur Otan set up its own commission to look into the allegations and substantiated Ordabayeva's claims. The hospital's acting head doctor and the deputy head of the Merken district in charge of healthcare were subsequently "held to account by the party".
In a later interview with TengriNews, Ordabayeva said that she had feared she would lose her job for her remarks, and added that she had been forced to continue working, seeing patients and colleagues, despite falling ill, and had initially been denied a test.
These and other reports of poor or insufficient protective clothing and scandalous treatment of medical workers are coming in at the same time as Central Asian countries are showing worrying rates of infection among hospital staff. Last week, Kazakhstan's chief medical officer, Ayzhan Esmagambetova, announced that medical staff accounted for 20% of the country's then 604 cases of COVID-19.This is around double the rate found in most European countries. This week, the medical authorities in Almaty announced that they were in the process of testing all of the city's medical staff. This led to a further 27 confirmed cases among healthcare workers on 13 April, and 116 on 14 April, with fully 130 of these combined new cases coming at Almaty's central clinical hospital. This would appear to bring the proportion of medical workers in Kazakhstan's total coronavirus caseload to almost 28% as of 14 April.
Meanwhile, Almaty's chief sanitary doctor, Ayzat Moldagasimova, caused outrage yesterday by asserting that one of the reasons for infections among hospital staff was "medical workers' own failure to observe all safety procedures". First cited by local television station Almaty, Moldagasimova's comments were quickly removed from the TV station's website, but not before being reported on by all of the country's major news outlets. Medical staff at Almaty's central hospital have accused Moldagasimova of slander and written a letter to Kazakh president Kassym-Jomart Tokayev asking him to look into the matter.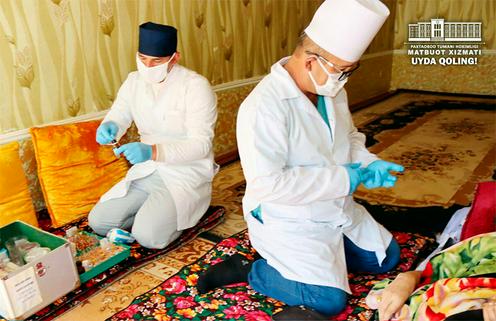 Medical workers called out to a suspected coronavirus case in Uzbekistan. Photo from the Telegram channel of the Andijan region healthcare department
In Uzbekistan, it was reported today that nearly 90% (78 out of 90) of all confirmed coronavirus cases in the country's Andijan region were healthcare workers. Of course, given the relatively low level of testing being carried out in Central Asia and the fact that medical staff are more likely to be tested (though, as Ordabayeva's case shows, this is far from guaranteed), these figures need to be seen in context, yet they still show cause for concern. According to coronavirus data site worldometers.info/coronavirus, Kazakhstan has conducted 3,700 tests per million population, Uzbekistan just over 2,000 and Kyrgyzstan less than 1,500. This can be compared to relatively low-testing countries in Europe like the UK and France on just over 5,000 tests per million, or high-testing Germany with nearly 16,000.
Uzbekistan has also promised bonuses of between $525 and $2,630 per 14-day period to healthcare workers dealing with coronavirus cases. Compensation is also to be provided to medical staff who contract COVID-19 during the course of their duties. $10,500 dollars will apparently be given to those who get infected with the virus, while any who end up in intensive care or who fail to make a full recovery will be awarded $26,300. It is currently unclear how well this promise is being carried out or exactly how such infections are to be distinguished from those contracted outside of work.
To date, Kazakhstan had recorded 979 cases of COVID-19 and 12 deaths, Uzbekistan 896 cases and 4 deaths, and Kyrgyzstan 419 cases and 5 deaths. Tajikistan and Turkmenistan remain among a handful of countries (mostly isolated Pacific Ocean island states, as well as North Korea, South Sudan and Lesotho) around the world that are yet to officially report any cases of coronavirus.