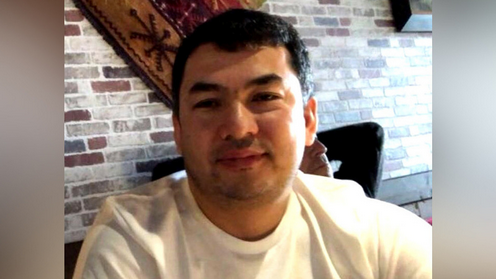 Aierken Saimaiti . Photo from Akipress.com
In exchange for access to information about the investigation into the murder of Uyghur businessman Aierken Saimaiti, the Turkish government has demanded that Kyrgyzstan extradite members of the Gülen movement residing in the country, the Kyrgyz news outlet 24.kg reports (in Russian).
At a session of the parliamentary commission set up to investigate Saimati's murder, Kyrgyz deputy interior minister Mirlan Kanimetov stated that complications had arisen in obtaining information from the Turkish side. "They say that there are many FETO (the name applied to the movement by the Turkish government: Fethullahçi Terör Örgütü – Fethullahist Terror Organisation, after the name of the movement's founder and leader, Fethullah Gülen – ed.) members in Kyrgyzstan. But we have not declared the organisation a terrorist organisation, so we are unable to arrest them. For this reason a misunderstanding has arisen," he explained.
The Gülen movement (known simply as Hizmet – "Service" – to its followers) is an organisation of adherent of the teachings of Turkish cleric Fethullah Gülen, who was an advisor to current Turkish president Recep Tayip Erdoğan until 1999, but later fell out with him and emigrated to the USA. The Turkish government accuses the Gülenists of orchestrating the failed military coup in Turkey in 2016 and has declared the group a terrorist organisation. The USA has consistently refused to extradite Gülen himself, citing a lack of proof that he in fact was behind the attempted coup.
Before its fall from grace, the Gülen movement was particularly active in education, setting up a vast network of schools (with as many as 2 million students) not just in Turkey but in many countries around the world, not least Kyrgyzstan. This is not the first time the Turkish authorities have demanded that Kyrgyzstan support them in their prosecution of Gülen's followers. In 2017, they were successful in pressuring for the replacement of members of the governing board of the Sebat network of schools, set up in Kyrgyzstan on Gülen's initiative in the 1990s. In 2019, Turkey appeared to be getting its way in the extradition of two Sebat employees, Senan Yilmaz and Sanjar Abdulhakim, but in January 2020 the Bishkek City Court ruled the state prosecutor's office's decision on extradition to be unlawful.
Saimaiti's murder was part of the biggest media story (alongside the arrest of former president Atambaev) in Kyrgyzstan last year. Saimaiti was an ethnic Uyghur Chinese citizen who moved to Kyrgyzstan in 1999 at the age of 17. He soon demonstrated a talent in managing (legal and illegal) money transfers to China and began working for the head of the powerful Uyghur Abdukadyr clan, Khabibulla Abdulkadyr. By 2014, Saimaiti had become the owner of an important marketplace next to the border with Uzbekistan. In 2017, however, he fell out with Khabibulla Abdulkadyr. He was soon forced to flee to Turkey, where he once again became engaged in illegal money transfers.
In the spring of 2019, RFE/RL's Kyrgyz service Azattyk published an investigation, based largely on interviews with Saimaiti, in which the powerful Kyrgyz Matraimov family was accused of illegally transferring $700 million out of the country. Initially, Saimaiti was not mentioned as the report's key informant, but simply as one of the participants in the affair. It was only after Saimaiti was shot dead in Istanbul in the autumn of 2019 that Azattyk and other participating journalists admitted that they had spoken to him. They then released further parts of their investigation, based on information Saimaiti had managed to pass on to them before his death. In these reports Abdukadyr was named as the organiser of a vast smuggling operation and the Matraimovs as being his patrons and protectors. Earlier this year, RFE/RL and its partners were awarded the prestigious Tom Renner Award for their investigation.
Several suspects in Saimaiti's murder were arrested almost immediately after his death. None of them have direct links to Kyrgyzstan, though some of them claimed to be Kyrgyz citizens. According to the version provided to the media at the start of the investigation, the cause of the murder was a dispute between Saimaiti and a small religious group involved in the conflict in Syria.
In another important development which emerged from the Kyrgyz parliamentary commission meeting yesterday, the Kyrgyz State Committee for National Security (SCNS) has accused RFE/RL of accepting money from Saimaiti to publish their investigation. At the meeting, the deputy head of the State Committee for National Security's investigations department, Sagynbek Samidin Uulu, reported that the Kyrgyz authorities had established the cause of Saimaiti's conflict with fellow businessman Khabibulla Abdulkadyr. According to the SCNS, Saimaiti owed Abdulkadyr $3 million but refused to recognise the debt. The SCNS claims that Saimaiti resolved to put pressure on his creditor through the media and paid journalists working for RFE/RL's Kyrgyz service Azattyk $100,000 in order to achieve this. The source of this claim was said to be testimony from Kyrgyzstan's former consul in Istanbul, Erkin Sopokov (who lost his position after it emerged that Saimaiti had been using his service car to travel around Istanbul), and a translator from a tourism firm in Mecca, Rustam Tolobaev.
RFE/RL president Jamie Fly yesterday rejected the charges. Fly said that the allegations «appear to be the latest attempt in a longstanding campaign of retaliation against journalists by corrupt individuals seeking to protect their wealth and power."
"Indeed, Mr. Matraimov is currently suing Ali (lead reporter Ali Toktakunov – ed.) and our Kyrgyz Service, and earlier this year sought to freeze our Kyrgyz Service's bank account. We condemn such efforts to distort the truth, and once again call on Kyrgyz authorities to ensure that those responsible for threatening and attempting to intimidate the journalists related to this story are held accountable for their actions,» Fly added.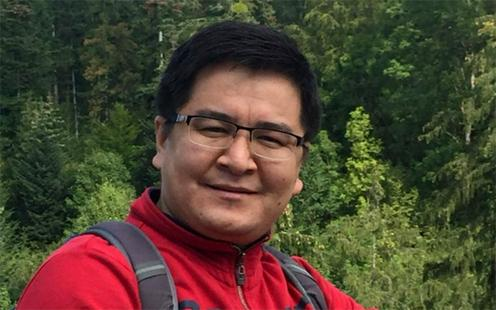 Ali Toktakunov. Photo from occrp.org
Ali Toktakunov, who is accused of personally accepting the money, told RFE/RL's Russian channel Current Time TV: "I can state, in court or anywhere else, that I never took even a cent from Aierken Saimaiti. Yes, I received hundreds of original documents from him, with the help of which we uncovered a multi-layered scheme of corruption in Kyrgyzstan, including money laundering and the use of state organs to conceal smuggling operations. The authorities have still not taken any kind of legal action, and we want to make the public aware of this."
US government-funded RFE/RL (Radio Free Europe/Radio Liberty), with its local-language national services across the former Soviet space (all named "Freedom/Liberty" in the local language), is the major regional provider of independent grassroots reporting in Central Asia. It remains blocked in Turkmenistan and Uzbekistan and is often subject to pressure and temporary blocks elsewhere.
Update: The Kyrgyz SCNS has now asked RFE/RL to ensure that its journalists cooperate with the agency's investigations into the outlet's report on Saimaiti's activities. The SCNS requested RFE/RL boss Jamie Fly to do all he can to facilitate questioning of the journalists Ali Toktakunov and Ydyrys Isakov. The agency promised to guarantee the journalists' safety and to examine all of the materials in their possession in full accordance with Kyrgyz law. Fergana's correspondent writes that while the SCNS investigation has previously concentrated on the Matraimov family, the agency now seems to be shifting focus onto Saimaiti.