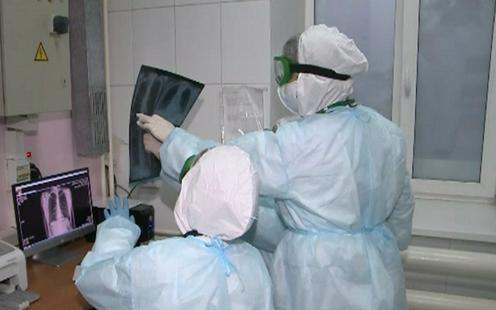 Kazakh doctors. Still image from Almaty TV
415 people died last week of pneumonia in Kazakhstan, while official coronavirus figures show 76 fatalities. More than 40,000 people are currently being treated for pneumonia around the country, nearly 31,000 of them with negative PCR test results for COVID-19. These figures were release yesterday by the Kazakh health ministry on the demand of journalists, RFE/RL's Kazakh service Azattyq reports (in Russian).
Last week, Kazakhstan's chief sanitary doctor, Aizhan Esmagambetova, stated that 1,772 people have died in the country in total from pneumonia, 628 of them in June alone. The official coronavirus death toll currently stands at 264 (the Kazakh health ministry has recently switched to reporting fatality statistics on Mondays every week rather than every day).
The sharp surge in pneumonia cases with negative PCR test results for COVID-19 has taken healthcare systems in both Kazakhstan and neighbouring Kyrgyzstan by surprise over the last couple of weeks. While PCR tests have never been claimed to be 100% reliable, similar situations with such extensive false negatives do not appear to have been reported in other countries around the world. State media in both Kyrgyzstan and Kazakhstan are speaking of a wave of "community acquired pneumonia", since both countries' health authorities only count cases with positive test results (though Kyrgyzstan has promised to change this). Doctors argue that the illness must be caused by COVID-19, since it is otherwise a rare occurrence at this time of year – Kazakhstan's figures for June were four times those reported during the same period last year. Many have pointed out that PCR tests only detect traces of the virus in the throat and nose, while by the time the disease has developed into full-blown pneumonia it is concentrated in the lungs.
Chinese state media yesterday warned Chinese citizens living in Kazakhstan about an "unknown pneumonia" in the country with a "much higher" fatality rate than COVID-19, though Kazakhstan's health ministry has just released a statement labelling such reports as "fake news", the BBC reports. Medical authorities in both Kazakhstan and Kyrgyzstan have this week acknowledged that the pneumonia wave is likely down to the coronavirus, and have altered their treatment protocols accordingly.
Indeed, far from being the result of some new "unknown pneumonia", it seems likely that the unusual situation is due to a combination of the severity of the surge in coronavirus cases unleashed by the easing of previously-successful lockdown measures in the two countries, and the health authorities' insistence on only counting deaths with positive PCR test results. Kazakh health minister Aleksei Tsoy may be right that the country is following global practice by only counting positive test results in its general infection data, but the argument seems a little disingenuous when it comes to reporting fatalities. By including pneumonia cases since June, plus data on COVID-19 patients who have had their deaths ascribed to other causes, Azattyq has carried out rough calculations to show that the actual death figure in Kazakhstan is likely to be at least 1,589. At the same time, the outlet cautions that the official figure for patients whose deaths have been ascribed to other causes (just 101) does not appear entirely reliable. Back at the end of May, when the official death toll was 37, Azattyq's reporters found 72 graves in specially-designated coronavirus graveyards in Almaty, Nur-Sultan and Shymkent. Since then, the official death tally has multiplied by seven times.
At least in Kazakhstan, changes to official counting methods do not appear imminent. Announcing the decision to alter treatment protocols, the health ministry said yesterday that patients will be classified as "likely cases of COVID pneumonia" if they show typical symptoms for COVID-19 in a CT scan or an ELISA test. "In this connection, statistics on patients with the diagnosis 'likely case of coronavirus infection' will not be kept," the ministry added.
Meanwhile, it was reported today that one of the country's top health officials has himself passed away from pneumonia. Almaty region chief sanitary doctor Kairat Baimukhametov joins a burgeoning list of Kazakh public figures who have succumbed to "community acquired pneumonia" or the coronavirus in recent days, among them Almaty region deputy head Serikzhan Beskempirov (who also died today), the actors Murat Mukashev and Darkhan Dayirbek, journalist Zholdasbek Duanabai, and designer Berik Ismailov. The cause of death of famous composer Kenes Duysekeev yesterday is yet to be confirmed. First President Nursultan Nazarbaev, who turned 80 this week, however, is reported to have recovered from the coronavirus.
To date Kazakhstan has recorded 54,747 cases of COVID-19. Yesterday, the country set a new record for daily infections with 1,962 cases detected. Testing is the highest in Central Asia and respectable by international standards, with plans to increase capacity to 40,000 tests per day by the end of the month, though many ordinary Kazakhs still complain of being unable to secure tests.