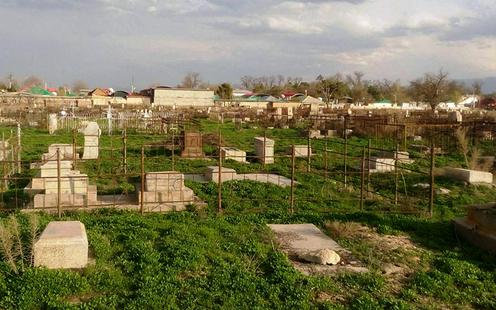 A cemetery in Turkmenistan . Photo from Habartm.org
The authorities in the Lebap region of Turkmenistan have ordered local residents to bury deceased relatives in graves that are not visible to satellite imaging, RFE/RL's Turkmen service Azatlyk reports (in Russian).
According to the outlet's sources, local officials are demanding that people ensure that new graves are flat and have banned the use of gravestones and other overly conspicuous markers. Funerals and memorial services are also forbidden.
The new requirements regarding graves follow the publishing of an investigation by news site ACCA on 24 July into mortality rates in Turkmenistan, based on satellite images. ACCA journalists counted 317 fresh graves appearing in the Balkanabat city cemetery in the three weeks between 25 March and 16 April this year, while only 524 graves had been added in the entire 22-month period between 31 May 2018 and 25 March 2020. The news site's source claimed that 1,300 people had died of COVID-19 since March in Balkanabat alone.
The Turkmen government, of course, continues to deny that there are any cases of COVID-19 in the country, while justifying recently-introduced lockdown measures as due to "harmful dust" blowing into the country from abroad. Correspondents working for independent media outlets such as Azatlyk have in contrast been reporting on a rapidly deteriorating situation over the past week, with hospitals full of patients displaying coronavirus symptoms and significant numbers of deaths.
"The number of graves in graveyards now is 15 times greater compared to last year," Azatlyk's correspondent in Lebap said while conveying the new requirements for burials. One of the outlet's journalists in Ashgabat spoke last week of "endless funeral processions" and "hundreds" of new graves appearing in one of the city's cemeteries over the last ten days.
In today's article, the RFE/RL's correspondents in Ashgabat say that conditions for both patients and medical staff at a converted office building quarantine zone for suspected COVID cases are extremely difficult. "For hundreds of patients there are just four ventilators," one informed source said. "Only those with contacts are being connected to them, when someone they know makes a call up the chain. When the WHO was in Ashgabat, there were more ventilators. I don't know what has happened to them."
Opposition outlet Turkmen.news wrote earlier this week that patients at one infectious diseases hospital in the capital were being asked to pay up to 1,400 manats ($400 at the official rate, far less at black market rates) for access to a ventilator. Fellow opposition new site Chronicles of Turkmenistan has reported today that pneumonia patients in the Lebap region are being forcibly held at hospitals which they want to leave as they cannot afford to pay for treatment. One local resident told journalists that a single day's treatment costs 800-1,000 manat ($229-286 at official rates).
Many patients are reportedly asking to be allowed home as they simply do not have that kind of money, but doctors are refusing. According to Chronicles' source, some patients are calling the police and complaining of being held against their will, yet police are refusing to respond to such calls.
If a patient dies then relatives are still being forced to pay for the unsuccessful treatment. They are also being required to pay 60 manat ($17) for a plastic body bag for the corpse. Sources report that medical staff are requesting that the family send two strong male members to collect the body, and, when they hand over the deceased, are instructing them to bury their loved one immediately, without opening the bag and without conducting any kind of funeral rites.
Azatlyk's correspondent says that medical staff at the Ashgabat quarantine facility, too, are scared, because "a lot of doctors and nurses and getting ill and dying". "No one is providing them with any assistance either and sick medical workers become dispensable like discarded material. Doctors sometimes approach them and check from a distance whether a patient is alive or not. The sick are calling their relatives and pleading with them to come and collect them, because they are seeing dozens of people die each day right before their eyes," the correspondent relates.
All this, of course, paints a very different picture to the WHO mission's recent conclusions that Turkmenistan possesses "a good hospital infrastructure" that is "very well equipped" and "ready and prepared to start to take in coronavirus patients", and strengthens claims that the WHO team was merely shown a false façade of model hospitals.
Queuing for cash
The authorities' attempt to cut down on epidemiologically-risky queueing by removing ATMs seems meanwhile to have predictably backfired as people are merely congregating in even greater numbers alongside the few cash machines still in operation. Residents of the city of Mary are reportedly queueing for three to four days to withdraw funds from the town's three remaining ATMs. Over four hundred people are said to have "registered" their position in one queue, while the bank only has enough cash for 70-80 people each day. Having registered their place, some people are able to return home. Others have come from too far afield and remain outside of the banks, sleeping in their cars or on covers spread on the open ground.
Queueing outside of banks has of course long been a common phenomenon in Turkmenistan. Wages, pensions and other benefits have for years been paid by bank transfer, but few stores in the country yet take cards. People therefore immediately rush to the banks to remove the new funds as soon as they get paid, and ATMs quickly run out of cash. The mass removal of ATMs has made the situation for ordinary Turkmens a whole lot worse.
"I ran out of money. Right now I'm around 70th in the queue, I hope that there will be enough cash today because this is already my third day without sleep. My kids are probably worried at home. My phone battery has died," one man in the queue told Azatlyk's correspondent, before asking to use his phone in order to "let them know I'm alive".
According to Azatlyk's correspondents, against the backdrop of rising infections the Turkmen authorities in some areas are readying to extend lockdown measures by cancelling the start of the approaching school year and switching to online education instead. Whether the public will still believe that such measures are necessitated by freak winds blowing in dust from the Aral Sea is another question. As Tatyana Zverintseva has argued in a recent article on our Russian site, events in Turkmenistan often give the impression that the main addressee for government propaganda is not ordinary citizens, but President Berdimuhamedow himself. It may then be that the dust story has come about because officials fear to admit to the head of state that the coronavirus has indeed arrived in the country. The authorities likely also fear stirring up panic and are worried about the demands for transparency and performance that will accompany an admission that the epidemic is indeed underway. It may be all of this combined with the simple inertia inherent in a propaganda machine that has for years been claiming that Turkmenistan is living in an "era of might and happiness". Whatever it is, it seems at present to be a more risky approach than the apparently successful strategy adopted by other authoritarian governments such as Tajikistan, of admitting a restricted number of cases and hoping to smother the rest in a wave of opacity.