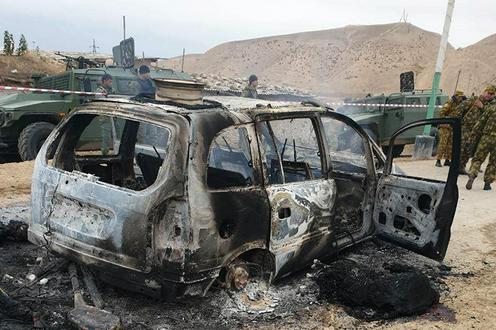 The site of the border post attack. Photo: Press Office of the Ministry of Internal Affairs, Tajikistan
The attack on the Ishkobod border post on the Tajik-Uzbek border was conducted by 9 men, 11 women and 13 children between the ages of 4 and 15, according to a representative of the State Committee for National Security (SCNS) of Tajikistan, Muhammad Saidov. Saidov's comments came in the course of a conference in Dushanbe dedicated to gender issues, reports Radio Liberty's Tajik website. Saidov did not elaborate on the precise nature of the role the young children played in the attack.
According to Radio Liberty's own sources, one of the attackers was indeed a 15 year-old school student. Shortly before the attack, the youth had requested leave from the school's headmaster, claiming to be going to visit relatives living in another region. It has been established that he had never travelled outside of Tajikistan.
In his speech, Saidov confirmed that the group was formed in the Sughd region of Tajikistan (as earlier announced by the Ministry of Internal Affairs), but said that immediately prior to the attack, members of the band had lived for around a month in the Ismoili Somoni district of Dushanbe. "The newcomers were noticed by the mahalla chairman and the local policeman, but nobody paid much attention to the matter," said Saidov.
According to him, the members of the group were not from poor families. "Investigations determined the wealth of the group's leader to be around one million Somoni ($103,000)," stated the security agency's representative.
Saidov's statements differ noticeably from the single official declaration of the SCNS, made immediately after the 6 November attack. Since then the Tajik government has hardly released any details about the incident.
According to the official SCNS version, a group of 20 armed individuals in masks attacked the Ishkobod border post after seizing five Kalashnikov assault rifles from the guards. Tajik security forces were, however, able to neutralise the attackers: 15 of them were killed and five arrested. Among the attackers were several women, two of whom died and three were arrested. The authorities also reported the deaths of two members of the security forces – border guard Izatullo Latifov and interior ministry employee Bahrom Kosimzod (in some sources Shohzod). Journalists later uncovered information on the deaths of four more border guards, including the Ishkobod post's deputy commander Dilovar Tolibov.
Immediately after the attack, the Tajik authorities blamed the incident on Islamic State militants (IS, terrorist organisation banned in Russia and Tajikistan), who had infiltrated the territory of the republic from neighbouring Afghanistan. Two days later IS confirmed its responsibility for the terrorist attack, but the Afghan security services rejected the possibility that militants had crossed from their territory into Tajikistan.