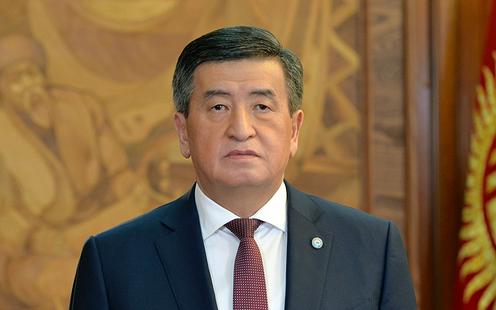 Sooronbay Jeenbekov . Photo by the Press Office of the President of Kyrgyzstan
Kyrgyz president Sooronbay Jeenbekov has announced that the nationwide emergency currently in place on account of the COVID-19 epidemic will be extended. The text of the announcement has been published on the head of state's website (in Russian).
Congratulating World War II veterans ahead of Victory Day on 9 May, the president said: "At present we are faced with the threat of the spread of the coronavirus on the one hand, and the negative impact on the economy on the other." He reminded his audience of the introduction of a lower-level state of emergency (chrezvychaynaya situatsia, ChS – "emergency situation") across the country and a full-blown state of emergency (chrezvychaynoe polozhenie, ChP) in certain locations.
"We are having to gradually resume business activity in all sectors of the economy. Nevertheless, our main priority is the health and the lives of our citizens. For this reason, the state of emergency (chrezvychaynaya situatsia) will be maintained across the whole country and its term extended," Jeenbekov said.
The "emergency situation" (ChS) was introduced in Kyrgyzstan on 22 March, shortly after the first imported COVID-19 cases were detected in the country. Three days later, a full-blown state of emergency (ChP) was declared in Bishkek, Osh, Jalal-Abad and several districts in the south, giving the authorities even wider powers to introduce restrictions. In these places, all economic activity was suspended apart from the production, transportation and sale of food, medication and fuels, and the provision of banking services and utilities. The current ChP is due to expire on 11 May. From 1 May, the list of permitted economic activities in territories under a ChP was expanded. From 11 May the list is due to be further extended, and from 21 May the remaining branches of the economy are to be reopened.
At present, Kyrgyztan has reported 906 cases of COVID-19 and 12 deaths.