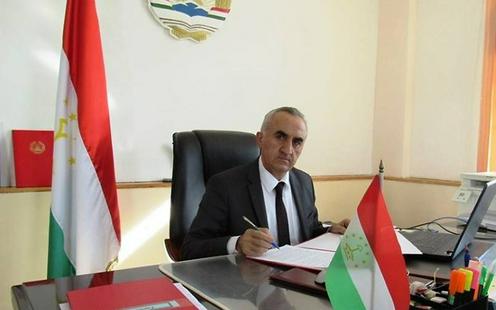 Yodgor Faizov . Photo from Asiaplustj.info
At a meeting with residents of the Rushan district, the head of Tajikistan's Gorno-Badakhshan Autonomous Region (GBAR), Yodgor Faizov, has promised to personally take care of resolving the conflict between the local community and law enforcement agencies, RFE/RL's Tajik service Ozodi reports (in Russian), citing its own sources.
Since 23 May, Rushan district residents have been protesting to demand that the authorities end investigations into three young men who became involved in an altercation with security forces officers. A fight broke out between the young men and officers of the local office of the State Committee for National Security (SCNS) on 22 May after the officers came to arrest local resident Sharof Kobilov, suspected of involvement in the drugs trade. The following day, the young men were arrested, but local residents came out to defend them and forcibly freed them from police custody. Local informal authority figure Yodgor Gulomkhaidarov came out in defence of the young men.
According to Ozodi's source, it was Gulomkhaiderov who thwarted the young men's arrest. On the following day, police stopped Gulomkhaiderov's car and arrested him and a fellow passenger. News of the arrest led to crowds of locals gathering and freeing him too from police control while he was being transferred from the local SCNS headquarters to a border post. The security forces are now conducting a search for Gulomkhaiderov and the three youths accused of "hindering a special operation". Rushan residents, however, are working to prevent their arrest, fearing that they will be subjected to torture and made to sign false confessions. They are demanding that criminal charges against the suspects – two of whom are teenagers – be dropped.
On 1 June, residents gathered at the local administration headquarters in order to speak to the GBAR head about the conflict. Yodgor Faizov assured them that he would take charge of resolving the issue with the security forces. "From now on this is up to me and Yodgor to resolve. I promise to bring the matter to an end. Don't worry," Faizov said to those who had gathered there.
According to sources, on 27 May another of the suspects sought in the original drugs-related raid, Firdavs Gadomamadov, was handed over to the police. Gadomamadov and Kobilov are accused of involvement in running drugs into the country from Afghanistan. Reports have been circulating on Facebook that Kobilov has been beaten and even killed in police custody. The local police department have denied this, saying that Kobilov is fine.