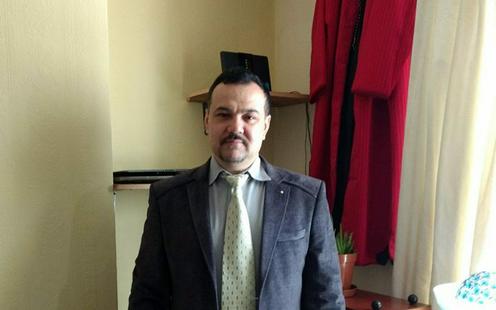 Kakamurad Khydyrov . Photo from his personal page on Facebook
A new Turkmen opposition movement, Democratic Choice for Turkmenistan, has announced that it will be staging protest actions inside the country. The announcement was made on the personal Facebook page of one of the movement's leaders, Kakamurad Khydyrov.
"Today DCT will begin undertaking sustained action in Turkmenistan to liberate the country from the dictatorial regime of Berdymukhamedov," the announcement states. The opposition group has chosen a white dove as its symbol and called on potential supporters to join in spreading this emblem throughout the country's towns and cities. Khydyrov has recorded a video message in which he claims that there are DCT cells in every welayat (region), every etrap (district) and every town in the country. He also announced the opening of a branch of the organisation in Turkey.
Khydyrov stated that the Turkmen authorities have started responding to DCT activity by restricting access to messaging app imo. But he says that the government will not be able to keep up such an approach long term as the country is too dependent on the internet. Interestingly, DCT seems to be making significant use of Telegram, previously not widely used among Turkmen dissidents, to spread its message. Until now, opposition figures have preferred to record their video messages on YouTube. Both platforms are blocked in Turkmenistan, but Turkmen citizens who wish to do so find a way around the block.
Besides Khydyrov, the other leader of DCT is opposition figure Murad Kurbanov. The movement was founded several weeks ago. Speaking to Fergana, Khydyrov said that, unlike other Turkmen dissidents, DCT does not intend to focus on sporadic protest actions in Europe and get weighed down in online conflicts between different online opposition factions. The movement aims to work with people who have remained in Turkmenistan as well as among Turkmen labour migrants in Turkey (the main destination for Turkmen migration). Khydyrov himself began his political activity during a trip to Turkey, although he was arrested there before managing to return to the United Kingdom, where he has a residence permit.
DCT supports protest actions by Turkmen citizens abroad. The number of such demonstrations has been on the increase in recent months. Protest actions inside Turkmenistan remain rare and restricted to concerns of daily life devoid of any broader political dimension. For instance, a group of Turkmen women recently joined in protest against requirements for them to pay for their children's school certificates. There have also been demonstrations due to food shortages. Officials generally try to quickly satisfy the demands of these kinds of protests (exempting people from having to pay for certificates, distributing flour etc.). At the same time, they do their best to ensure that news of such events does not spread.
The name "Democratic Choice for Turkmenistan", of course, echoes the name of a similar group in Kazakhstan, Mukhtar Ablyazov's banned Democratic Choice for Kazakhstan.