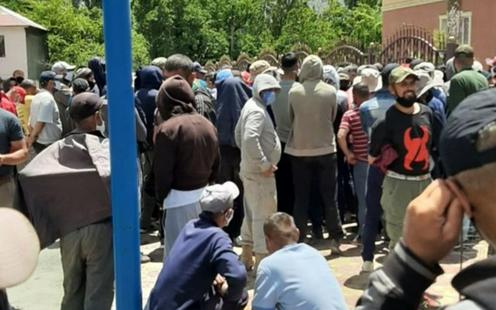 Protesting residents of the Rushan district, 16 June 2020 . Photo from Ozodi.org
Residents of the Rushan district of Tajikistan's Gorno-Badakhshan Autonomous Region (GBAR) have gathered again today outside of the local administration headquarters. According to them, earlier talks with regional governor Yodgor Faizov proved fruitless and officers of the State Committee for National Security (SCNS) continue to demand that they hand over informal community leader Yodgor Gulomkhaidarov and three youths accused of "hindering a special operation", Ozodi reports (in Russian).
One local resident by the name of Daler told journalists that "the authorities have given an ultimatum of ten days to hand over the suspects, but no one has said what they are accused of". If the demands are not complied with, police have threatened to press criminal charges against 109 locals. "We don't know who these 109 people are and what they are accused of," Daler added.
The district head appaently went out to meet with the protestors. What the results of these talks were has not been reported. So far there has been no official comment.
Since 23 May, Rushan district residents have been protesting to demand that the authorities close investigations into three young men who became involved in an altercation with security forces officers. A fight broke out between the young men and officers of the local department of the State Committee for National Security (SCNS) on 22 May after the officers came to arrest local resident Sharof Kobilov, suspected of involvement in the drugs trade. The following day, the young men were arrested, but local residents came out to defend them and forcibly freed them from police custody. Local informal authority figure Yodgor Gulomkhaidarov spoke out in defence of the young men. Police also tried to arrest him, but Rushan residents again prevented this from happening.
Since then, local residents have been hiding Gulomkhaidarov and the three youths and demanding that law enforcement agencies drop their investigations, while the security services have been insisting that locals hand them over. On 1 June, GBAR head Yodgor Faizov asked protesters to disperse, assuring them that he would take care of the conflict with the security services. Today is the first day since then that Rushan residents have gathered once again outside the district administration headquarters.