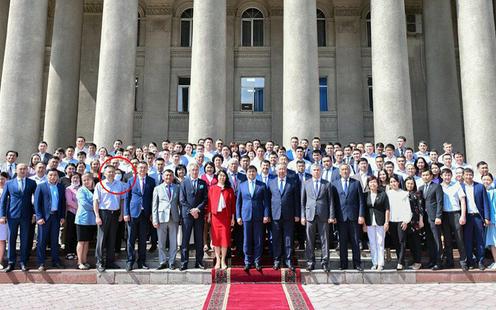 Photo from the Telegram channel @koroche_kg
Kyrgyz president Sooronbay Jeenbekov has ordered the entire Kyrgyz government to be fined for a recent group photograph in which only one person is visible wearing a face mask, Sputnik reports (in Russian).
Kyrgyz internet users had previously expressed their anger at the photo, which shows government office staff and ministers, including former prime minister Mukhammedkaliy Abylgaziev and his successor Kubatbek Boronov, standing tightly together without wearing face masks, in violation of social distancing recommendations.
During a Security Council meeting earlier today, Jeenbekov said that such a violation of sanitary regulations was unacceptable. Turning to the members of the government in attendance at the meeting, he added: "The necessary measures should not be taken against ordinary employees of the government office. I assume they were just following the directions of their bosses. You should all pay a fine."
New PM Kubatbek Boronov explained that the photo had been taken following his ratification as prime minister. He said that everyone had been wearing masks just before the image was taken, but that they had been asked to remove their masks for the photo. "Now I regret that I didn't think about this," Boronov said, adding that public indignation over the photograph was entirely justified.
Another embarrassing mask-related photo has been causing a stir in Uzbekistan today. A photo published by the press office of the Tashkent police force shows a police officer in a face mask speaking to a local resident. In the officer's reflection in a mirror on the far right of the photo, however, the mask is missing. Clearly, it has been photoshopped on at a later point.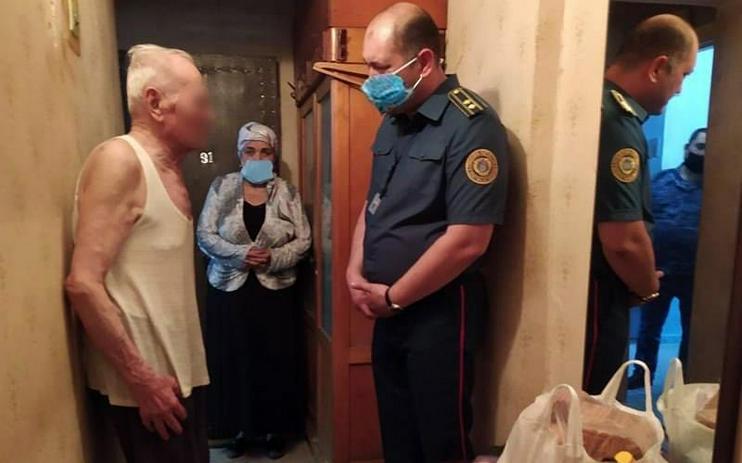 Photo from Facebook @TrollUZB
TROLL.UZ, which first called attention to the photo on its Facebook page, reports that the original image has now been deleted from the police service's website, but that other images in which masks have clearly been added digitally are still visible. "They have a long tradition of photoshopping masks," the page's administrator Umid Gafurov said.
The Tashkent police department admitted that they had photoshopped masks onto the city's police officers. "Earlier we put up the photos as they were, without masks or with masks drawn down under the chin. Then we got some negative comments. In order to avoid such a reaction, unfortunately we did indeed start to add them in later. This was a mistake. We have held talks with our employees and explained that even when they are being photographed they must not remove their masks. Even if they have a virus blocker," Gazeta.uz cites the department's press office as saying.
In Uzbekistan it has been obligatory to wear a face mask in public places since 23 March. From 25 March, those failing to do so became subject to fines: $22 for a first offence and $66 dollars for a repeat offence. Later, the fine was increased to $110 – a huge sum for most Uzbeks. Over the first month of the lockdown, 55,000 lockdown infractions were recorded around the country, 95% of them being failure to wear a face mask.
At the same time, both Kyrgyz president Sooronbay Jeenbekov and his Uzbek counterpart Shavkat Mirziyoyev are both frequently seen at public events without face masks, even though all others around them are wearing masks. In Uzbekistan, some other highly-placed officials, such as senate speaker Tanzila Narbaeva, seem to have followed the president's lead.