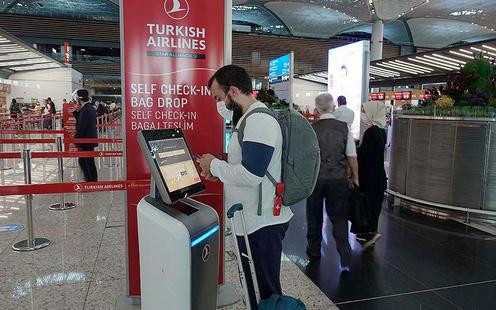 At an airport in Istanbul . Photo from Aa.com.tr
Turkey's national airline Turkish Airlines has announced the resumption of its flights to the countries of Central Asia. The new schedule has been published on the company's website.
Flights to Almaty will take place three times a week from the end of June and five times a week from 4 July. Three flights a week will run to Nur-Sultan from 1 July.
The airline will also operate three flights a week to Bishkek from the end of June and four a week from 1 July. Flights to Dushanbe (two per week) and to Tashkent (four per week) will also resume from 1 July. Flights to Ashgabat are to run three times a week from 22 July.
When European and US tourists will be able to return to Central Asia, though, remains unclear. Turkey is now allowing foreigners to enter the country (though all travellers are subjected to medical checks at the border and will be required to take a coronavirus test if they show any symptoms). The only Central Asian country to provide any clear information on this as yet has been Kazakhstan. On 20 June, Kazakhstan resumed flight connections with Turkey, Thailand, China, South Korea and Japan. From 1 July, air travel to and from Georgia will also be renewed. However, at this stage entry will only be granted to citizens of these countries themselves. Travellers will also be required to undertake a medical test and provide a certificate showing a negative PCR test result from the previous five days.
As for Kyrgyzstan, Azattyk reports that the director of the country's civil aviation authority has today insisted that no final decision about the resumption of international flights has been taken, despite the Turkish Airlines announcement. Azattyk writes that Turkish budget travel airline Pegasus, popular with backpackers, has also announced flights to the country.
Uzbekistan, too, has stated that only tourists from a set number of countries where the spread of COVID-19 is deemed under control will be allowed to enter the country, though no list yet seems to have been drawn up.

Update: The Uzbek transport agency has since stated that no decision has yet been taken about the resumption of international flights by foreign carriers. Turkish Airlines have removed information about flights to Uzbekistan from their schedule.
Meanwhile, Uzbekistan has taken the bold step of offering tourists who get infected with the coronavirus during their stay in the country $3,000 in compensation. At the end of last week, President Shavkat Mirziyoyev added this measure to the country's previously announced tourism campaign "Uzbekistan. Safe Travel Guaranteed".
The scheme is to work through the certification of tourist sites and accommodation within a system of heightened sanitary-epidemiological security. Only tour operators that use such certified facilities will be permitted to provide tourism services during the period in which lockdown measures are still in place. Unrestricted travel, in other words, remains a long way off.
Boosting tourism remains one of the key goals of the Mirziyoyev administration and a number of measures were taken prior to the COVID-19 pandemic to increase the flow of visitors to the country. Earlier this year Uzbekistan was named the fourth fastest growing tourism market in the world. Around half a million tourists from CIS countries visited Uzbekistan last year, and about the same number from elsewhere.