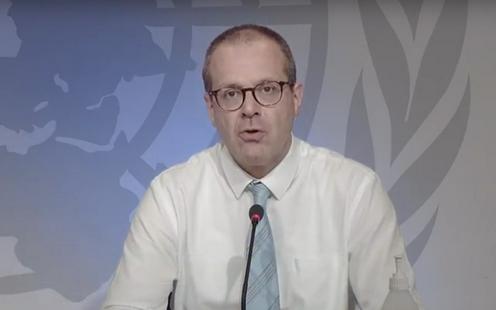 Director of the WHO Regional Office for Europe Hans Kluge . Still image from WHO video on YouTube
Kazakhstan and Kyrgyzstan have been included among 11 countries in the wider European region where the easing of lockdown restrictions has led to a "very significant resurgence" of the coronavirus. The announcement on the worsening epidemiological situation in Europe was made by the director of the WHO Regional Office for Europe, Hans Kluge, in a video published yesterday on YouTube.
The wider European region as a whole – which in the WHO's definition includes Russia, the Caucasus and Central Asia – has seen an increase in weekly cases of COVID-19 for the first time in months following the lightening of lockdown measures, with almost 20,000 new cases and more than 700 deaths being recorded each day.
"For weeks, I have spoken about the risk of resurgence as countries adjust measures," Kluge said. "In several countries across Europe, this risk has now become a reality – 30 countries have seen increases in new cumulative cases over the past two weeks.
"In 11 of these countries, accelerated transmission has led to very significant resurgence that if left unchecked will push health systems to the brink once again."
The WHO representative did not name these 11 countries at the time, but the organisation later identified them as Armenia, Sweden, Moldova, North Macedonia, Azerbaijan, Kazakhstan, Albania, Bosnia and Herzegovina, Kyrgyzstan, Ukraine and Kosovo. Sweden's state epidemiologist has since said that the WHO has misinterpreted the data by confusing Sweden with countries where epidemics are just beginning and that the rise in case numbers there is due to increased testing.
The rising caseloads with record new infection numbers in Kazakhstan and Kyrgyzstan recently was reported on here more fully two day ago. Since then new case numbers have remained at similarly high levels. State TV in both countries has been something of a broken record in recent days (and indeed weeks), constantly reminding audiences of the "tense" epidemiological situation and blaming rising cases on widespread public laxity. Kazakhstan's various regional administrations have been reintroducing lockdown measures on a local level at a rate that is often hard to keep up with. Such measures have included store closures, public transport restrictions and even temporary full lockdowns at weekends. The authorities in the Kyrgyz capital of Bishkek are said to be considering similar moves.
New cases in Kazakhstan remain at the level of 500+ new symptomatic infections per day (Kazakhstan does not include asymptomatic cases in the official tally; total rates including asymptomatic cases are about three times as high). Kyrgyzstan yesterday set a new record of 228 infections.
Uzbekistan also saw a record infections rise yesterday of 276. 243 of these cases, however, were said to be individuals already being held in quarantine facilities. Unlike Kazakhstan and Kyrgyzstan – but very much in line with Tajikistan – Uzbek official media is generally putting far more emphasis on the "good news" of recoveries than on new infections and deaths.